Indonesia's economy has developed dynamically since the 1997-98 Asian financial crisis, achieving growth rates of approx. six percent. The country achieved negative GDP of -2 percent in 2020 for the first time in 20 years due to the COVID-19 pandemic, however, the decline was rather moderate compared to its regional peers in ASEAN.
Beyond its scale of economic growth, Indonesia offers numerous other, significant advantages to firms that are considering alternative markets in the South Asia region.
Indonesia as a China +1 option
Many businesses are turning to Indonesia as a second Asia investment option for certain types of consumer related market opportunities such as retail, health, and financial services. Recent global supply chain and trade shocks, as well as higher costs of labor have propelled Indonesia as a viable option for a China+1 strategy. The country boasts an enormous labor pool, growing middle class, and a vast wealth of natural resources.
For investors making long-term commitments and eyeing new growth opportunities, Indonesia may be the most attractive option to complement operations in China. Compared to its ASEAN peers, Indonesia stands out from the rest due to its size and resource wealth. Indonesia projects to become one of the world's largest economies on the back of a young workforce and rapidly expanding middle class.
Indonesia as a "China plus one" destination offers a strong alternative for dealing with rising costs in China and unpredictable scenarios such as trade shocks. Foreign investors may look at Indonesia to supplement their China operations for its lower-cost inputs, alternate markets, and as a gateway to the ASEAN and South Asia markets.
Strong Free Trade and Double Tax agreements
Free Trade Agreements
As an autonomous market and a member of the Association of Southeast Asian Nations (ASEAN), Indonesia has signed and executed a number of free trade agreements with countries and regions all over the world. This includes the (ASEAN)Free Trade Area and the Regional Comprehensive Economic Partnership; two of the largest FTA in the world.
The (ASEAN) Free Trade Area (AFTA) was signed in 1992 with the aim to be a catalyst to help ASEAN become a production base for global markets. Under the agreement, goods originating in ASEAN have applied a 0-5 percent tariff rate.
As a member of ASEAN, it is part of the bloc's free trade area and agreements with Australia, New Zealand, China, Indian, Japan, and South Korea. Indonesia also has a bilateral economic partnership agreement (EPA) with Japan and FTAs with Pakistan and the European Free Trade Association (which consists of Iceland, Liechtenstein, Norway, and Switzerland). Further, Indonesia and Australia ratified the Indonesia-Australia Comprehensive Economic Partnership Agreement on February 10, this year.
The Regional Comprehensive Economic Partnership (RCEP) free trade agreement, signed off on November 15, includes all ten ASEAN countries, along with Australia, China, Japan, New Zealand, and South Korea. It is the world's largest FTA, covering about 30 percent of global domestic products and nearly one-third of the global population.
Double Tax Avoidance Agreements
In addition to its FTAs, Indonesia has a vast network of double tax agreements (DTAs), totaling 71 jurisdictions. The country has DTAs with Australia, New Zealand, the US, Canada, China, Hong Kong, India, and many EU states, among others.
Double Tax Avoidance Agreements treaties effectively eliminate double taxation by identifying exemptions or reducing the amount of taxes payable in Vietnam.
Competitive Corporate Income Tax rates, Incentives for doing business
The Indonesian government offers numerous investment-related business incentives and is continually making further improvements through reforms and by further upgrading its incentives to maintain the country's high appeal to foreign investors. Among all investment incentives, tax incentives tend to be one of the most important to foreign investors and one of the most attractive features of the Indonesian business landscape.
Corporate income tax (CIT) incentives are granted investors, to promote investment in sectors or areas that are on par with the national development strategies. There are two main CIT incentives in Indonesia—preferential tax rates (reduced tax rates), and tax holidays (tax exempted for a certain period or the lifetime of the project).
Certain priority sectors for investment offer various tax exemptions. These include industries which the government prioritizes, companies that invest a certain amount in one of the 246 priority business lines will be afforded fiscal and non-fiscal incentives.
Tax incentives are also provided for investments in labor-intensive industries, training programs, and R&D.
Indonesia aims to make its special economic zones (SEZs) a policy priority to attract foreign investment, boost industrial activity, and promote job creation. This strategy has been further facilitated through various incentive programs available throughout the special economic zones in Indonesia, such as:
Exemption on corporate income tax
Corporate income tax allowance
Exemption on Import and excise duties
Exemption of VAT and sales tax on luxury goods
Sound economy
Indonesia's economy grew 5.31% in 2022 year-on-year – the highest in the last 9 years. This further highlights the country's increasingly strong position as Southeast Asia's largest economy with growth returning to pre-pandemic levels with the government easing COVID restrictions.
The International Monetary Fund in its World Economic Outlook update projected a 4.8% growth for Indonesia's economy and the World Bank also predicts that Indonesia will be one of the six countries that will account for more than half of all global growth by 2025, the others being China, Russia, India, Brazil, and South Korea.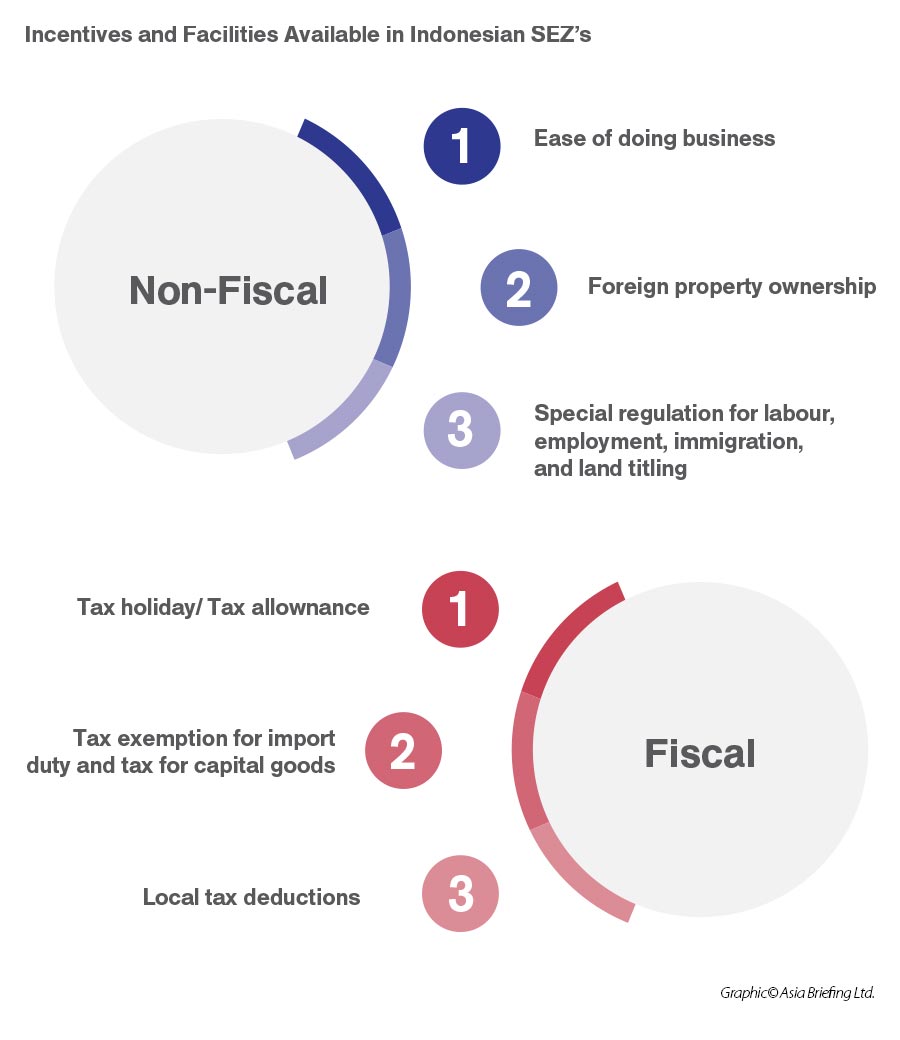 Domestic market, large workforce, and improving market liberalization
Indonesia has favorable conditions for labor-intensive manufacturing. Indonesia is the world's fourth most populous country – with a population of over 272 million – offering foreign investors a vast labor pool. In contrast to China, which is rapidly aging, Indonesia's demographics skew is young: the country's median age is 29, and 60 percent of the population is under the age of 40.
Wages in Indonesia are fairly low, though there is considerable variation across regions – the highest in the Special Capital Region of Jakarta, Indonesia's capital and largest city, at IDR 4,901,798 (US$316) per month and lowest in the Special Region of Yogyakarta are IDR 1,981,782 (US$128).
This minimum wage remains competitive when compared with China – where it ranges from US$400 per month in Shanghai to US$226 in Guangxi.
Indonesia's middle-class has been growing faster than other groups, with at least 52 million Indonesians now considered economically secure; or one in five. The middle-class now represents close to half of household consumption in the country compared to just 12 percent in 2002. As such, Indonesia's economy is primarily driven by domestic activity, giving it an advantage during the global financial crisis in 2008 as well as the ongoing COVID-19 pandemic.
The expansion of this group will be key to unlocking Indonesia's developmental potential. The middle-class is expected to reach 90 million by 2030 and some additional US$1.1 trillion in business opportunities. This led to increasing urbanization and some 56 percent of the Indonesia's total population live in urban areas and cities.
Indonesia already has the world's fourth largest population and will enjoy a demographic bonus until 2030, when the share of the population in working ages will be at its highest level and thus the potential for increased output per capita. This is compared to its peers Singapore, Malaysia, and Thailand who are experiencing an ageing population.
Further, the most notable change to doing business in Indonesia is the introduction of the 'positive investment list'. The general principle under the positive investment list is that a business sector is open to 100 percent foreign investment unless it is subjected to a specific type of limitation.
New emerging sectors – Indonesia's digital economy
Digital technology will play a leading role in Indonesia in reforming key sectors like healthcare and manufacturing in addition to improving the country's resilience to disasters like the COVID-19 pandemic.
A 2020 report conducted by Google, Temasek Holdings, and Bain & Company concluded that Indonesia's digital economy is expected to be valued at US$124 billion by 2025, largely powered by e-commerce, online travel, ride hailing, and online media. This will be facilitated by the country's vibrant technology sector, supported by one of the highest concentration of startups in the world. There are currently over 2,100 startups in Indonesia, which is preceded only by the US, India, UK, and Canada. From this large number, five have achieved unicorn status and one is a decacorn.
Value of the Internet Economy of ASEAN-6 (US$ billion)

Country

2020

2025

Indonesia

44

124

Malaysia

11.4

30

Philippines

7.5

28

Singapore

9

22

Thailand

18

53

Vietnam

14

52
Source: e-Conomy Report 2020, Google, Temasek Holdings, and Bain & Co
Indonesia is Southeast Asia's largest and fastest-growing internet economy – more than 215 million Indonesians had access to the internet in 2023, with 10 percent engaging in online shopping.
E-commerce is the driving force behind the transformation of Indonesia's retail landscape, and the country's gross merchandise value (GMV) was the third highest in the world at US$40 billion, beating India at US$38 billion.
Indonesia thus presents ample and scalable digital opportunities for foreign investors, particularly in e-commerce, fintech, and the Internet of Things (IoT). In trying to fully capitalize on this growth potential, Indonesia's government issued new digital and e-commerce tax laws in 2020, a sign of the improving regulatory landscape.
This presents unique opportunities for foreign businesses in entering the country's retail market. Notable foreign e-commerce platforms that have taken advantage of Indonesia's large consumer market are Singapore's Lazada and Shopee, as well as the recently merged Tokopedia and Gojek – creating Indonesia's largest digital services company.
Financial technology
Indonesia's fintech industry is one of the most competitive and dynamic in ASEAN as evidenced by the emergence of four unicorns and one decacorn in the industry. The country is home to 20 percent of all fintech companies in the Southeast Asian bloc, which is expected to generate US$8.6 billion in revenues over the next five years, despite its infancy.
The fintech industry is one of the most funded sectors — along with e-commerce — and is dominated by peer-to-peer (P2P) lending (50 percent) and e-payment (23 percent) platforms. Despite having more than 300 fintech companies operating in Indonesia, foreign investors will find the industry has yet to fulfil its potential. One of the factors is that 60 percent of the country's workforce is in the informal sector, and many micro, small, and medium sized enterprises (MSMEs) have little access to financing from banks, as they too are mostly operating in the informal sector.
P2P lending
Many local MSMEs have business models that are not compatible with the characteristics of the banks' financial products. That includes aspects such as payment terms for loan schemes, forms of collateral, and credit quality, among others.
Foreign fintech firms can plug this gap through new financing models that have the potential to serve Indonesia's approximately 45 million underbanked and 90 million unbanked adults.
These microloans are popular because of their convenience as it normally takes just 24 hours for the funds to be disbursed, and the terms and maturity are small and short – with borrowers typically receiving not more than US$100. These are normally returned within a few weeks as there are often huge interest charges.
E-wallets
Electronic money transactions rose by 173 percent in 2020 and have become indispensable to Indonesian consumers. The country is predicted to be the next battleground for digital payment apps, with Indonesia possessing many of the key characteristics that are critical for the adoption of digital payment systems.
As of 2022, some 224 million people had access to the internet, expected to rise to 270 million by 2028. Further, the smartphone penetration rate stood at approximately 80 percent. Moreover, the middle-class now comprises 20 percent of the population, a key segment in the growth of the digital economy.
Local players still dominate the market, however, for foreign investors in the e-wallet industry, it is essential that they deliver a customer-centric experience to allow customers to pay with the local payment method of their choice, ranging from mobile banking to payments via convenience stores. This is because while Indonesia has a high smartphone penetration rate, a sizeable portion of its population is unbanked.
Cloud technology and big data analytics
Indonesia is embracing cloud technology at speed and scale and has attracted investments from the world's largest tech companies. In a report compiled by the Boston Consulting Group, Indonesia's public cloud market is projected to see a compound annual growth rate of 25 percent — to reach US$800 million by 2023. The growing number of digital natives and the expansion of digital unicorns is fast turning Indonesia into one of Asia-Pacific's fastest-growing public cloud markets.
Alibaba gained a first-mover advantage over rivals Google, Amazon Web Services (AWS), and Microsoft.
The management of big data will be key to maximizing the future of Indonesia's cloud technology industry. Big data will be of great importance in understanding consumer trends in the country, particularly in recording digital footprints through social media platforms. Many MSMEs are using Facebook and Instagram to reach their consumer base.
There were 191.4 million social media users in Indonesia in January 2022. With 129.9 million Facebook users, 99.15 million Instagram users, and 92,07 million TikTok users.
It is estimated that the total number of social network users will reach 256 million by 2025.