Over the past few decades, Indonesia has developed into a vibrant democracy with the largest and most dynamic economy in Southeast Asia. Now a member of the G20, the country offers foreign investors growth potential for those seeking long-term commitments, given its status as the largest economy in ASEAN (and 16th largest in the world), with a young workforce, a rapidly expanding middle-class.
The Indonesian government has vowed to continue implementing prudent macroeconomic policies and structural reforms to further enhance the ease of doing business and improve the country's investment climate, as well as to support the New Capital Nusantara project. This included issuing various tax incentives as well as widening the number of positions open to expatriate workers.
Amidst these conditions, specific trends are also driving further increases in the country's inbound investment, and making Indonesia a hotbed for companies from around the world that are seeking to:
Diversify their Asia presence;
Access the ASEAN and South Asia markets;
Supplement their China operations; and
Leverage increasingly attractive free trade agreements, business incentives, and market advantages.
Many businesses are turning to Indonesia as a second Asia investment option for certain types of consumer related market opportunities such as retail, health, and financial services. Recent global supply chain and trade shocks, as well as higher costs of labor have propelled Indonesia as a viable option for a China+1 strategy. The country boasts an enormous labor pool, growing middle class, and a vast wealth of natural resources. Standard Chartered Bank projected Indonesia's economy to grow from US$4.2 trillion in 2020 to US$10.1 trillion by 2030 to become the world's fourth largest economy in terms of purchasing power parity.
For foreign investors looking to complement operations in China, Indonesia offers an immense market with substantial room for continued growth.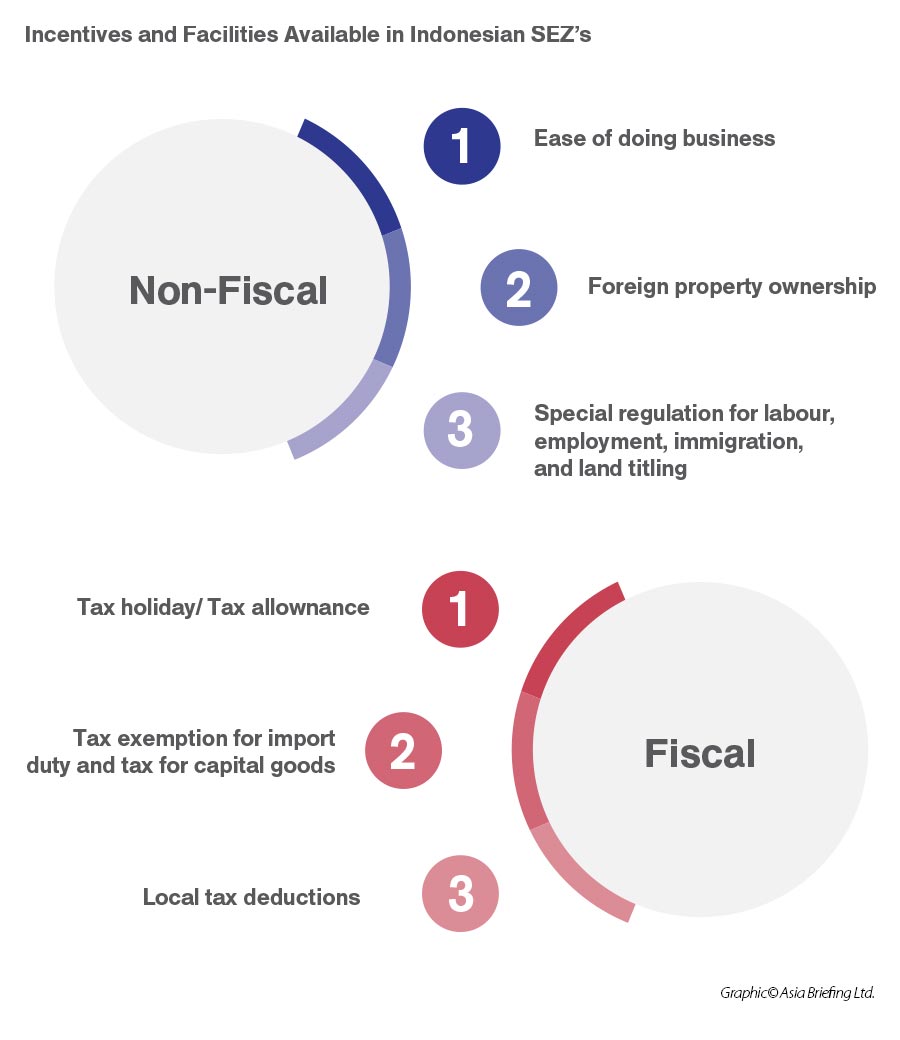 Ease of doing business
Indonesia has consistently improved its ease of doing business (EODB) ranking by improving the business environment in the country. In recent years the country has improved its rank by implementing various regulatory measures for:
Starting a business — it is now easier since the introduction of an online platform for business licensing, which issues electronic certificates.
Paying taxes — the country has made paying taxes simpler due to the online filing and payment system for major taxes.
Enforcing contracts — it is now managed through an online case management system for judges designed to streamline the filing, and delivery of court documents.
Trading across barriers — it has improved because of the online processing of export customs, enabling more efficient and cost-effective cross border trade.
Getting electricity — it is now easier for businesses due to renovations and upgrade maintenance to its electrical grids.
Indonesia's international free trade and tax agreements
Free Trade Agreements
As an autonomous market and a member of the Association of Southeast Asian Nations (ASEAN), Indonesia has signed and executed a number of free trade agreements with countries and regions all over the world. This includes the (ASEAN) Free Trade Area and the Regional Comprehensive Economic Partnership; two of the largest FTA in the world.
The (ASEAN) Free Trade Area (AFTA) was signed in 1992 with the aim to be a catalyst to help ASEAN become a production base for global markets. Under the agreement, goods originating in ASEAN have applied a 0-5 percent tariff rate.
As a member of ASEAN, it is part of the bloc's free trade area and agreements with Australia, New Zealand, China, Indian, Japan, and South Korea. Indonesia also has a bilateral economic partnership agreement (EPA) with Japan and FTAs with Pakistan and the European Free Trade Association (which consists of Iceland, Liechtenstein, Norway, and Switzerland). Further, Indonesia and Australia ratified the Indonesia-Australia Comprehensive Economic Partnership Agreement on February 10, this year.
The Regional Comprehensive Economic Partnership (RCEP) free trade agreement, signed off on November 15, includes all ten ASEAN countries, along with Australia, China, Japan, New Zealand, and South Korea. It is the world's largest FTA, covering about 30 percent of global domestic products and nearly one-third of the global population.
Double Tax Avoidance Agreements
In addition to its FTAs, Indonesia has a vast network of double tax agreements (DTAs), totaling 71 jurisdictions. The country has DTAs with Australia, New Zealand, the US, Canada, China, Hong Kong, India, and many EU states, among others.
Double Tax Avoidance Agreements treaties effectively eliminate double taxation by identifying exemptions or reducing the amount of taxes payable in Indonesia.
Why companies relocate to Indonesia
Indonesia is the 10th largest economy in the world based on purchasing power parity (PPP) and the fourth largest in East Asia – after China, Japan, and South Korea. By 2030, Indonesia's robust economic development is expected to transform the country into the world's seventh-largest economy.
Indonesia's government is eyeing long-term reforms to improve its bureaucracy and investment environment. This includes introducing the Job Creation Law, also known as the Omnibus Law in 2020 that opened up more sectors for foreign ownership, preparing new labor laws, and simplifying business licenses, among others.
To size up Indonesia, or any country, as a potential destination for relocation, it is vital that foreign investors diligently research their options across many factors that are relevant to their situation. Such factors may include infrastructure, locations, talent availability, access to raw materials, incentives, supply chain partners and logistics, and others.
Here are some top reasons why companies choose to relocate to Indonesia:
All of the stated Top Reasons to Invest in Indonesia.
Indonesia's continuous track record of high growth, relative to other low-cost countries.
The country's ongoing business reforms aiding foreign investors.
Growing number of special economic zones, workforce and labor availability, lower labor costs and an increasingly open environment for foreign direct investments.
Indonesia as a "China plus one" destination for dealing with rising costs in China and unpredictable scenarios such as trade shocks. Foreign investors may look at Indonesia to supplement their China operations for its lower-cost inputs, alternate markets, and as a gateway to the ASEAN and South Asia markets.
Ongoing business reforms
In 2020, Indonesia's government enacted the job creation law – commonly known as the Omnibus Law. The law and its implementing regulations has been heralded for introducing the most significant reforms in Indonesia's history in a range of areas including investment, employment, business licensing, immigration, and environmental standards, among others.
The Omnibus Law amended more than 75 current laws with the aim to simplify licensing processes and the harmonization of regulations to increase the ease of doing business and enable the central government to respond faster to global changes or challenges.
The most notable change to doing business is the introduction of the 'positive investment list'. The general principle under the positive investment list is that a business sector is open to 100 percent foreign investment unless it is subjected to a specific type of limitation. The regulation presents one of the greatest liberalizations in foreign ownership limitations in Indonesia since the negative investment list was first introduced in the 1980s.
Important sectors that had previous foreign ownership restrictions, which have now been lifted include, among others:
Telecommunications;
Transportation;
Energy;
Distribution; and
Construction services.
Another significant reform act is the risk-based approach to the issuance of business licenses. Business licenses will now be issued based on the assessment of 'business risk level' determined by the scale of hazards a business can potentially create.
To determine the risk level, the government will conduct a risk analysis of each application before deciding on issuing a business license. This will comprise of:
Identifying the relevant business activity;
Assessing the hazard level;
Assessing the potential occurrence of hazards;
Determining the risk level and business scale rating; and
Determining the type of business license.
Based on the aforementioned risk analysis, the businesses activities undertaken by the applicant company will be classified into one of the following risk-level types:
Low-risk businesses;
Medium-low risk businesses;
Medium-high risk businesses; and
High-risk businesses.
Based on this risk-based approach, the lower the business risk, the simpler the business licensing requirements will be.
The government will undertake the risk-analysis for business activities in the following sectors:
Maritime affairs and fisheries;
Agriculture;
The environment and forestry;
Energy and mineral resources;
Nuclear energy;
Industry;
Trading;
Public works and housing;
Transport;
Health, medicine, and food;
Education and culture;
Tourism;
Religious affairs;
Post, telecommunications, broadcasting, and electronic system, and transactions;
Defense; and
Employment
Incentives, workforce, and economic zones
Incentives for doing business in Indonesia
The Indonesian government offers numerous investment-related business incentives and is continually making further improvements through reforms and by further upgrading its incentives to maintain the country's high appeal to foreign investors. Among all investment incentives, tax incentives tend to be one of the most important to foreign investors and one of the most attractive features of the Indonesian business landscape.
Tax incentives
Corporate income tax (CIT) incentives are granted to investors, to promote investment in sectors or areas that are on par with the national development strategies. There are two main CIT incentives in Indonesia—preferential tax rates (reduced tax rates), and tax holidays (tax exempted for a certain period or the lifetime of the project).
Certain priority sectors for investment offer various tax exemptions. These include industries which the government prioritizes, companies that invest a certain amount in one of the 246 priority business lines will be afforded fiscal and non-fiscal incentives.
Tax incentives are also provided for investments in labor-intensive industries, training programs, and R&D.
Indonesia aims to make its special economic zones (SEZs) a policy priority to attract foreign investment, boost industrial activity, and promote job creation. This strategy has been further facilitated through various incentive programs available throughout the special economic zones in Indonesia, such as:
Exemption on corporate income tax
Corporate income tax allowance
Exemption on Import and excise duties
Exemption of VAT and sales tax on luxury goods
Corporate Income Tax Holidays for Special Economic Zones in Indonesia

Taxpayer

Investment amount

Concession period (years)

Business entity

100 billion rupiah (US$7 million)

10

Businessperson

Between 100 billion rupiah (US$7 million)

to 500 billion rupiah (US$35 million)

10

Between 500 billion rupiah (US$35 million)

to 1 trillion rupiah (US$70 million)

15

More than 1 trillion rupiah (US$70 million)

20
Special Economic Zones
Indonesia has SEZs designed to attract foreign investment. Indonesia currently has 20 SEZs dispersed from the west to the east of Indonesia.
Compared to other areas in Indonesia, SEZs boast higher quality infrastructure, special tax incentives, streamlined regulations, customs exemptions, and the accelerated issuance of work visas.
Many SEZs also promote industry clustering, such as Batam island's new digital park and central Java's export-oriented automotive SEZ. Each SEZ was selected for their accessibility to local resources, and thus serve specialized industries.
Specific incentives vary depending on the SEZ, industry, and size of investment.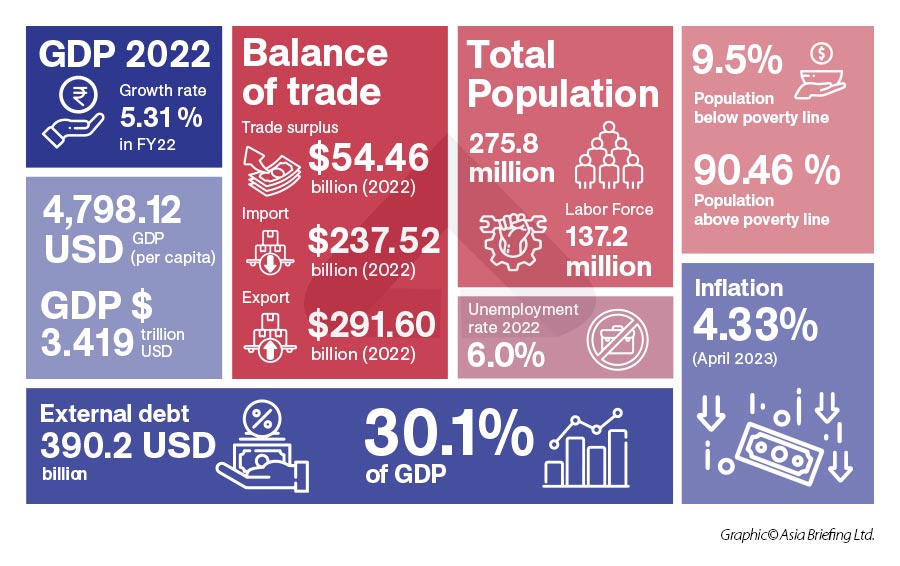 ASEAN's largest labor market
Indonesia is the world's fourth most populous country (275.7 million) with a young demographic averaging 30 years of age. Additionally, 60 percent of the population is under the age of 40. This makes Indonesia ASEAN's largest labor market with over 130 million workers and the fourth largest labor market in the world.
The country's current stage of development makes it ideal for labor-intensive manufacturing and the country is already a prominent producer of garments and textiles in addition to automobiles.
Despite its large labor market, only 55 million workers are considered 'skilled' and productivity is relatively low compared to its ASEAN counterparts. The government predicts that Indonesia requires 100 million skilled workers by 2030 as it aims to become the world's fourth-largest economy in terms of purchasing power parity. To encourage this human capital development, the government is offering businesses tax incentives for those establishing apprenticeships or training programs that foreign businesses can leverage when doing business in Indonesia.
Indonesia has also one of the regions' lowest wage rates and every province sets its own minimum wage.
Indonesia's natural resource availability
Indonesia has an abundance of natural resources ranging from coal, silver, gold, nickel, copper, bauxite, thermal coal, tin, petroleum, and natural gas, among others. Mining, including oil and gas extraction, contributes to one-tenth of GDP as well as the country's foreign exchange earnings.
In addition to hydrocarbon reserves, Indonesia's mineral resources also contribute significantly to the economy. The country is the world's largest producer of tin in addition to accounting for roughly 30 percent of the world's nickel production ahead of Australia and Brazil. Indonesia produced 16.769 metric tons of nickel in the Q1 of 2023.
Further, Indonesia's Grasberg mine has the second-largest reserve of copper in the world as well as the world's largest reserve of gold.
Industries driving Indonesia's economy
Mining and petroleum
Indonesia's mining and petroleum industry have been a backbone of the country's economy since the 1970s. Primary commodities accounted for about 60 percent of total exports. Despite Indonesia trying to climb up the value production chain, commodities are set to continue to dominate exports for the next 10 years, with China and India replacing the US and Japan as the top export destinations.
Manufacturing
Indonesia is keen to diversify and develop its manufacturing sector and transform its low-value manufacturing capabilities to more high-value products. The sector currently contributes to 20 percent of GDP with the country aiming to increase this to 25 percent of GDP by 2030, turning Indonesia into a manufacturing hub by 2030 that rivals Germany and South Korea. The government hopes this can be achieved through developing the automotive industries, chemical manufacturing, and electronics through the Making Indonesia 4.0 roadmap.
Indonesia's manufacturing sector employes approximately 15 percent of the total workforce.
The main areas of production are food and beverages, textiles, electronics, automotive, footwear, and textile and garments. An estimated 99 percent of the manufacturers are micro, small, or medium enterprises (MSMEs), who account for two-thirds of total employment in manufacturing.
Services
The country's services sector is the largest source of job creation, forming over 45 percent of total employment and some 45 percent of total GDP. Tourism and hospitality are some of the biggest sub-sectors and demand for hotels and other accommodations will continue to rise significantly as more tourists and businesspeople visit the country.
Aviation is another promising industry. Indonesia is a major importer of civilian aircraft and their parts, a vital market for suppliers from countries such as the US. The country has the second-fastest-growing aviation industry in the world behind China. More than 350 million people are expected to fly to and from Indonesia by 2036, making it the world's fourth-largest air travel market.
Indonesia's healthcare industry is another lucrative investment opportunity for foreign investors as the growth of its middle-class and the introduction of universal healthcare has driven demand in almost all aspects of the industry from hospitals to pharmaceuticals to medical devices. Indonesia introduced its universal healthcare program, the JKN, in 2014, which has since grown into the world's largest, covering over 200 million people.
Agriculture
Agriculture continues to play an integral role in the economy, employing one-third of the country's total workforce. The sector consists of small-scale farming and large commercial plantations for a variety of products such as rice, rubber, palm oil, tropical fruits, nutmeg, cocoa, and coffee. The country is aiming to achieve food-self-sufficiency by 2045.
Digital economy
Indonesia's digital economy has seen exponential growth over the last few years and is expected to be valued at US$124 billion by 2025. An increasingly prosperous, tech-savvy consumer demographic is reshaping the way the nation consumes, creating a wealth of opportunities for foreign investors.
The e-commerce industry will be the main driver of the digital economy, which is set to be worth over US$83 billion by 2025. In addition, there are other untapped, scalable opportunities, bringing the government closer to its target of building the largest digital economy in Southeast Asia.
An array of foreign tech giants, from Google to Amazon to Facebook, have already invested in Indonesia's digital landscape, attracted not only by the long-term potential, but the government's ongoing efforts to develop much needed regulatory framework.
Infrastructure
The Indonesian government announced an ambitious infrastructure plan worth US$350 billion in 2014-2019. The government intends to spend another US$400 billion on infrastructure projects across the country.
This includes developing 25 new airports, waste-to-energy facilities, as well as mass transit projects. The government will also build 2,600 km (1,600 miles) of new highways and construct 35,000 MW of electricity plants. Further, the construction of the new capital city on the island of Borneo has begun in 2021, which is set to cost US$33 billion.
Some 40 percent of the cost of these projects will be funded by the government, 25 percent through state-owned companies, and the rest from the private sector.
Summary: Top 10 Reasons to Invest in Indonesia
| | | |
| --- | --- | --- |
| 1 | Strategic Location | Strategic destination for access to the ASEAN and Asia markets, as well as a China +1 destination, located along shipping and transport routes. |
| 2 | Growing Economy | The country's GDP has grown at a consistent pace at just above 5% in the past with domestic consumption accounting for approximately 60 percent of GDP. |
| 3 | Government Reforms | The government has a solid economic vision, increasingly orientated towards facilitating foreign investment, and strong incentives schemes. |
| 4 | Ease of Doing Business | Fair and improving ease of doing business rankings for foreign investors. |
| 5 | Large, young labor force | Labor force of nearly 137 million workers with a median age below 30. |
| 6 | Special Economic Zones | Developing Special Economic Zones offering incentives to investors |
| 7 | Growing Positive Investment List | The country's Positive Investment List allows foreign investment in over 200 business sectors, including transportation, energy, and telecommunication. |
| 8 | Growing Consumer Spending | Population exceeding 237 million, a rapidly expanding middle class and growing services sector which exceeds 40% of GDP. |
| 9 | Network of FTA's | Signatory of more than 14 Free Trade Agreements, giving trade advantages through countries in Asia, ASEAN, Europe and elsewhere globally. |
| 10 | Abundance of Natural Resources | Indonesia has an abundance of natural resources ranging from coal, silver, gold, nickel, copper, bauxite, thermal coal, tin, petroleum, and natural gas, among others |