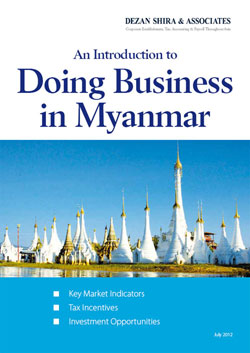 Jul. 19 – Asia Briefing, in cooperation with its parent firm Dezan Shira & Associates, has just released a new 28-page report introducing the current business environment in Myanmar. This guide, titled "An Introduction to Doing Business in Myanmar," is immediately available as a complimentary PDF download on the Asia Briefing Bookstore.
Myanmar is finally opening its doors to the rest of the world with the military-led government only a few months ago pushing forward political and economic reforms, attracting the attention of potential investors worldwide.
What will happen in the future is unclear, but the current president, Thein Sein (who could step down in 2015), is an advocate of opening and reforming the economy, so it seems there is finally a light at the end of the tunnel.