Singapore's Investment Outlook for 2018
By: Vasundhara Rastogi
Singapore is consistently ranked as one of the easiest places to do business. It is one of the world's top business destinations, characterized by a stable economy, easy regulations, and corruption-free environment. A leading business and financial center, Singapore is also geographically well placed, offering overseas investors a central location and easy access to the Asian market.
As a member of the ten-nation economic bloc – The Association of Southeast Asian Nations (ASEAN) -, it represents a significant proportion of the ASEAN free trade area and has several bilateral agreements with several countries in Asia and beyond. Overseas investors seeking to establish in Singapore can not only take advantage of the country's extensive tax-treaty network but also use the city-state to tap into the ten-nation ASEAN's growth potential. Further, the country ranks fourth in the world in terms of gross domestic product (GDP) per capita, offering a high potential market for businesses. It boasts of a modern and comprehensive infrastructure and a highly skilled workforce that can be a valuable reservoir of a skilled workforce for businesses.
 RELATED: Pre-Investment and Market Entry Advisory from Dezan Shira & Associates
Investment Climate
Singapore offers a robust investment climate and tax regime, which allows businesses to focus on functional operations and achieve long-term benefits.
In 2017, Singapore made it easier for businesses to pay taxes by introducing improvements to the online system for filing corporate income tax returns and value added tax (VAT) returns. It also increased the social security contribution rate paid by employers.
To further improve Singapore's investment climate, the government made resolving insolvency easier by establishing a new scheme of arrangement procedure with features of the debtor-in-possession reorganization regime and introducing provisions applicable to prepackaged restructurings.
The government also simplified its EntrePass scheme – a visa which allows foreign entrepreneurs to start a business in Singapore, to promote the start-up environment in the country. Further, it abolished the eligibility requirement of a minimum SG$50,000 (US$37,391) paid-up capital in a Singapore based company for the visa application – making the city-state accessible to a broader pool of entrepreneurs.
Key industries
The manufacturing and service sectors contribute the most to Singapore's overall GDP growth. In the third quarter of 2017, the two sectors collectively accounted for 77 percent of the GDP. The major industries driving the growth in manufacturing sector include electronics (semiconductors, and precision-engineering), pharmaceutical, chemicals, construction, and ship-building, whereas industries under the services sector comprise financial and business services, insurance, wholesale and retail, and tourism.
Logistics and supply chain management is another important industry in Singapore. Strategically located in the heart of Southeast Asia, the country forms a nexus of major shipping lanes and therefore acts as an important logistics hub for world trade.
Some of the other key industries are aerospace engineering, pharmaceuticals and biotechnology, and IT products and services among others. Singapore is also fast gaining prominence in the automotive industry, robotics, clean energy, environment and water, and natural resources.
Singapore economy in 2017
Despite the global slowdown, Singapore economy has shown considerable improvement in 2017. It grew much faster than initially estimated in the third quarter of 2017, led by strong demand in manufacturing, primarily electronics. Contrary to the government's earlier estimate of 2-3 percent, Singapore's 2017 GDP is now expected to grow at 3–3.5 percent (Ministry of Trade and Industry). As the global economy brightens, the growth prospect of Singapore is also expected to improve.
In the third quarter of 2017, manufacturing expanded by 18.4 percent, accelerating from the 8.4 percent in the previous quarter. This strong performance was led by growth in the electronics, biomedical manufacturing, precision engineering and general manufacturing, even as transport engineering continued to decline.
Business service industries recorded growth of 1.4 percent year-on-year (y-o-y) led by professional services, whereas finance and insurance grew by 5.9 percent y-o-y, better than the 4.2 percent growth in the second quarter. The "other services" sector, which includes education, health and social services expanded by 2 percent. Transportation and storage sector also grew by 4.6 percent y-o-y. On the downside, the construction sector contracted for the third consecutive quarter. It shrunk 7.6 percent in annual terms, a slight improvement from second quarter's 9.1 percent decline.
Overall, Singapore's growth experienced a split economy, wherein the export-oriented sectors continued to benefit from recovering global trade and the strong upturn in electronics production ongoing since the last quarter of 2016, while sluggish internal conditions held back the more domestic-focused industries.
Outlook for 2018
Looking ahead, the MTI expects Singapore's economy to grow between 1.5 percent and 3.5 percent in 2018, on account of the improved global and domestic economic environment.
The manufacturing sector is likely to continue to expand and provide support to overall GDP growth. In particular, the electronics and precision engineering clusters are expected to see sustained expansions on the back of healthy demand conditions in the global semiconductor and semiconductor equipment markets, although the pace of expansion is also likely to moderate. Wholesale trade, transportation & storage, and finance & insurance are expected to benefit from a global economic recovery. Sectors such as information & communications and education, health & social services are also likely to remain resilient, owing to the Smart Nation initiative and expansion in healthcare facilities. 
In 2016, the country experienced a decline in its FDI – largely as part of a global decline in economic growth and trade volumes. However, it continued to top the global FDI rankings and climbed to the fifth position in 2016 from seventh, in the previous year. As the global economy recovers, Singapore is expected to experience a rise in its foreign direct investments (FDI) inflows.
About Us
ASEAN Briefing is published by Asia Briefing, a subsidiary of Dezan Shira & Associates. We produce material for foreign investors throughout Asia, including China, India, Indonesia, Russia, the Silk Road & Vietnam. For editorial matters please contact us here and for a complimentary subscription to our products, please click here.

Dezan Shira & Associates provide business intelligence, due diligence, legal, tax and advisory services throughout the ASEAN and Asia. We maintain offices in Singapore, as well as Hanoi & Ho Chi Minh City, and maintain Alliance offices in Bangkok, Jakarta, Kuala Lumpur and Manila as well as throughout China, South-East Asia, India and Russia. For assistance with ASEAN investments into any of the featured countries, please contact us at asean@dezshira.com or visit us at www.dezshira.com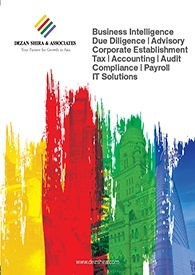 Dezan Shira & Associates Brochure
Dezan Shira & Associates is a pan-Asia, multi-disciplinary professional services firm, providing legal, tax and operational advisory to international corporate investors. Operational throughout China, ASEAN and India, our mission is to guide foreign companies through Asia's complex regulatory environment and assist them with all aspects of establishing, maintaining and growing their business operations in the region. This brochure provides an overview of the services and expertise Dezan Shira & Associates can provide.
---
An Introduction to Doing Business in ASEAN 2017
An Introduction to Doing Business in ASEAN 2017 introduces the fundamentals of investing in the 10-nation ASEAN bloc, concentrating on economics, trade, corporate establishment, and taxation. We also include the latest development news for each country, with the intent to provide an executive assessment of the varying component parts of ASEAN, assessing each member state and providing the most up-to-date economic and demographic data on each.
---
ASEAN's FTAs and Opportunities for Foreign Businesses

In this issue, we provide an introduction to some of ASEAN's FTAs and how foreign investors and exporters can maximize opportunities in this dynamic region. We also discuss the salient features of each FTA and the overall benefits they offer. We then discuss the Rules of Origin criteria associated with each FTA that foreign businesses need to be aware of. Finally, we analyze the growing opportunities for investors looking to set up alternative production bases within ASEAN.