China SOEs Bid On Philippines Clark International Airport Development
Four of the seven bidders on the design and development contract for the Clark Airforce base in the Philippines are Chinese State Owned Enterprises, according to the Philippines Bases Conversion and Development Authority (BCDA).  The China State Construction Engineering Corp Ltd, China Harbour Engineering Co Ltd and Sinohydro Corp Ltd have all submitted tenders. 
Clark International Airport is north of Manila and previously served as an American Airforce base until the facility was closed in 1991. The Airport serves the Clark Freeport Zone, an important tax and duty incentivized area that aims to encourage investment in airport-driven urban facilities, targeting high-end IT, aviation and logistics related enterprises, tourism and other sectors. The area is connected to Manila by the Subic-Clark-Tarlac Expressway, which is in turn connected to the North Luzon Expressway, some 43km from Manila. 
Chinese SOEs have been prominent in bidding on development contracts aligned with China's Belt & Road Initiative, and has special encouragement to do so with the Philippines and ASEAN nations as China has both a Free Trade Agreement with ASEAN and a Double Tax Treaty with the Philippines, providing tax savings on the provision of certain products, services and manpower. 
"It will be interesting to note, should a Chinese bid win, whether this will include Chinese labor" says Chris Devonshire-Ellis of Dezan Shira & Associates. "It is important that Philippines labor is deployed in development contracts in the Philippines". 
The contract is worth about US$250 million, meaning that opportunities will arise for subcontractors and materials suppliers familiar with airport and related constructions. The plan is to finish the Clark International Airport New Terminal Building by 2020, increasing Clark's annual capacity from four million to twelve million passengers. This will give airlines an alternative to Ninoy Aquino International Airport (NAIA), which at the moment is the main international gateway to the Philippines, but suffers from congestion problems. 
Dezan Shira & Associates maintain an office in Manila and service foreign investment into the country. We are able to advise on available tax incentives and establishment options for project offices. Please contact us at philippines@dezshira.com 
About Us
ASEAN Briefing is published by Asia Briefing, a subsidiary of Dezan Shira & Associates. We produce material for foreign investors throughout Asia, including China, India, Indonesia, Russia, the Silk Road & Vietnam. For editorial matters please contact us here and for a complimentary subscription to our products, please click here.

Dezan Shira & Associates provide business intelligence, due diligence, legal, tax and advisory services throughout the ASEAN and Asia. We maintain offices in Singapore, as well as Hanoi & Ho Chi Minh City, and maintain Alliance offices in Bangkok, Jakarta, Kuala Lumpur and Manila as well as throughout China, South-East Asia, India and Russia. For assistance with ASEAN investments into any of the featured countries, please contact us at asean@dezshira.com or visit us at www.dezshira.com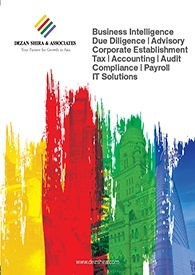 Dezan Shira & Associates Brochure
Dezan Shira & Associates is a pan-Asia, multi-disciplinary professional services firm, providing legal, tax and operational advisory to international corporate investors. Operational throughout China, ASEAN and India, our mission is to guide foreign companies through Asia's complex regulatory environment and assist them with all aspects of establishing, maintaining and growing their business operations in the region. This brochure provides an overview of the services and expertise Dezan Shira & Associates can provide.
---
How to Set Up in the Philippines
In this issue of ASEAN Briefing magazine, we provide an introduction to the Philippines as well as analyze the various market entry options available for investors interested in expanding to the island nation. We also discuss the step-by-step process for setting up a business entity in the Philippines, highlighting the various statutory requirements for overseas investors. Finally, we explore the potential for Singapore to serve as a viable base to administer investors' Philippine operations.
---
An Introduction to Doing Business in ASEAN 2017
An Introduction to Doing Business in ASEAN 2017 introduces the fundamentals of investing in the 10-nation ASEAN bloc, concentrating on economics, trade, corporate establishment, and taxation. We also include the latest development news for each country, with the intent to provide an executive assessment of the varying component parts of ASEAN, assessing each member state and providing the most up-to-date economic and demographic data on each.