Malaysia-Thailand Trade and Economic Relations
By Dr Sarika Dubey
Editor's Note: This article was originally published in The Diplomatist Magazine, June 2017, and has been republished with the permission of L.B. Associates (Pvt.) Ltd., a contract publishing house.
Malaysia and Thailand, both active members of the Association of Southeast Asian Nations (ASEAN), enjoy cordial diplomatic relations and share strong bilateral ties in areas such as trade and investment; security; education and vocational training; youth and sports; tourism; and connectivity and socio-economic developments in border areas. Both countries like any other countries in the region. Though both countries share a land border, yet they are culturally distinct. Malaysia is a primarily Malay Muslim country with a multicultural character with some non-Muslim minorities. On the other hand, Thailand is a homogenous Thai Buddhist country with a small Muslim community, especially in its southern region bordering Malaysia. Before discussing the problems and the prospects of the trade and economic relations of the two countries, let us have a look at their historical, political and cultural linkages over the years.
Malaysia: An Overview
Malaysia is a federal constitutional monarchy comprising of the Malay Peninsula and parts of the island of Borneo. It's known for its beaches, rainforests and a mix of Malay, Chinese, Indian and European cultural identities. The country is multi-ethnic and multi-cultural. While the constitution of Malaysia declares Islam as the state religion, it allows freedom of religion for Non-Muslims. Geographically, Malaysia is divided by the South China Sea into two regions – Peninsular Malaysia or West Malaysia bordered by Thailand on the North and Malaysian Borneo or East Malaysia located on the northern part of the island of Borneo in the South China Sea.
Malaysia has different ethnic groups of which approximately 50 per cent are Malays practising Sunni Islam. The other communities include Chinese and Indians. It has a federal parliamentary elective constitutional monarchy closely modelled on that of the West Minster parliamentary system, a legacy of British colonial rule. The head of state is commonly referred to as the king, who is elected for a five year term by and from among the nine hereditary rulers of the Malay States. His role has been largely ceremonial since 1994 after changing the constitution. All executive powers are vested in the cabinet led by the prime minister. He is both the head of cabinet and the head of government.
Malaysia is a founding member of ASEAN and the Organisation of Islamic Cooperation (OIC). It is also a member of several international organisations such as the United Nations, the Asia-Pacific Economic Co-operation, and the Non-Aligned Movement (NAM). Its foreign Policy is officially based on the principle of neutrality and maintaining peaceful relations with all countries but focused highly on the security and stability of South East Asia.
Since its independence Malaysia has made good economic progress. Its GDP has been growing at an average of 6.5 per cent per annum for almost 50 years. It is one of 17 mega diverse countries on earth with rich natural resources which have been the engine of its economy, but now it is expanding in the sectors of science, tourism, commerce and medical tourism. Presently it has a newly industrialised market economy, ranked third largest in South East Asia and 29th largest in the world.
Thailand: An Introduction
Thailand shares land borders with Cambodia, Laos, Malaysia and Myanmar. Although the country is a constitutional monarchy, it has switched between parliamentary democracy and military junta for decades. The country's population comprises of 95.9 percent Thai nationals. The remaining 4.1 percent of the population are Burmese, others and unspecified. The official language Thai is the principal language of education and government and is spoken throughout the country. Thailand's religion is Theravada Buddhism, which is an integral part of the Thai identity and culture. It is also a multicultural society with different ethnic and religious groups. Thai culture has been shaped by many influences including Indian, Lao, Burmese, Cambodian, and Chinese.
Thailand is actively engaged in international and regional organisations. Thailand is an active member of ASEAN and has developed close ties with its other members: Indonesia, Malaysia, the Philippines, and Singapore. The country is an emerging economy and became a newly industrialised country and a major exporter in the 1990s. Manufacturing, agriculture, and tourism are the leading sectors of the economy. Thailand experienced the world's highest economic growth rate from 1985 to 1996 averaging 12.4 percent annually but due to political uncertainty it has since declined and settled around 4.5 percent in 2010. It is the 2nd largest economy in South East Asia after Indonesia and the 4th richest nation according to GDP per capita, after Singapore, Brunei and Malaysia.
Malaysia – Thailand Trade Relations
Thailand and Malaysia have both agreed to foster co-operation on trade and investment. Both countries emphasised on economic development and rail and road connectivity along their borders. To abolish the challenges of development, poverty and unemployment in Southern Thailand, the government is now pushing forward the development of the Sadao-Padang Besar Special Economic Zone in the south in order to generate employment and income for local people. The six sectors where Thailand plans to urge Malaysian investors to conduct more border trade are oil and energy, rubber, automobiles, sugar and rice and tourism. According to Thailand's deputy prime minister, sectors that investors are interested in include halal food production and rubber. Thailand has also conducted a study on the establishment of a Rubber City in the Southern region Industrial Estate, located in Ban Chalung, Hat Yai district, Songkhla province, in order to promote rubber processing and add value to rubber products. Malaysia is also interested in promoting tourism between the two countries.
According to the Thai commerce minister, Malaysia is Thailand's largest trading partner in ASEAN and the fourth largest overall. Bilateral trade among the two nations has grown at an average of 10.54 percent annually during the past five years. Value of cross border trade between Thailand and Malaysia for the last year is US$26.5 billion. Both countries have agreed to enhance bilateral trade. They have decided to conduct Joint Trade Committee meeting regularly at certain intervals. As Asia's sole net exporter, Malaysia has been hit hard by the collapse in oil prices since June 2016. The major element of Malaysian economy is the export of petroleum, natural and agricultural resources and it is the largest producer of tin, rubber and palm oil in the world. Oil and gas related activities account for nearly a third of the country's fiscal revenues.
On the other hand Thailand is also an export dependent economy and its major exports include rice, textiles and footwear, fishery products, rubber jewellery, cards, computers, and electrical appliances. As of 2012, the Thai automotive industry was the largest in South East Asia and the 9th largest in the world. Moreover, Malaysia has remained the investor's first choice having investment grade credit with an "A" rating from the several rating agencies, as compared to the Thailand which has a lower investment grade.
Conclusion        
Although Thailand has a much stronger balance of payments position and it is benefitting from cheaper oil prices, there is a lot which has to be done to put its economy back on track. The present circumstances are very much favourable for both countries to strengthen their relationship. Malaysia's economy has the advantage of having huge natural resources such as oil etc. that other neighbours don't. However, Malaysia needs to open its services sector and improve the business environment for foreign investors if it wishes to move to a high income economy. Thailand is also facing a long political crisis; it is unpredictable when the situation will become normal. If the violence escalates in the Thai South, it will further complicate politics in Bangkok and Thailand's relations with Malaysia. It will be interesting to see how both countries tackle some of the issues in their bilateral relationship to maintain peace and stability in the region.
About Us

The Diplomatist Magazine  was launched in October 1996 as the signature magazine of L.B. Associates (Pvt.) Ltd., a contract publishing house based in Noida, a satellite town of New Delhi, India.
ASEAN Briefing is published by Asia Briefing, a subsidiary of Dezan Shira & Associates. We produce material for foreign investors throughout Asia, including China, India, Indonesia, Russia, the Silk Road & Vietnam. For editorial matters please contact us here and for a complimentary subscription to our products, please click here.

Dezan Shira & Associates provide business intelligence, due diligence, legal, tax and advisory services throughout the ASEAN and Asia. We maintain offices in Singapore, as well as Hanoi & Ho Chi Minh City, and maintain Alliance offices in Bangkok, Jakarta, Kuala Lumpur and Manila as well as throughout China, South-East Asia, India and Russia. For assistance with ASEAN investments into any of the featured countries, please contact us at asean@dezshira.com or visit us at www.dezshira.com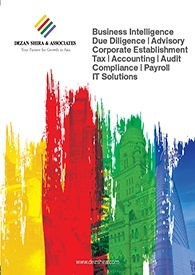 Dezan Shira & Associates Brochure
Dezan Shira & Associates is a pan-Asia, multi-disciplinary professional services firm, providing legal, tax and operational advisory to international corporate investors. Operational throughout China, ASEAN and India, our mission is to guide foreign companies through Asia's complex regulatory environment and assist them with all aspects of establishing, maintaining and growing their business operations in the region. This brochure provides an overview of the services and expertise Dezan Shira & Associates can provide.
---
An Introduction to Doing Business in ASEAN 2017
An Introduction to Doing Business in ASEAN 2017 introduces the fundamentals of investing in the 10-nation ASEAN bloc, concentrating on economics, trade, corporate establishment, and taxation. We also include the latest development news for each country, with the intent to provide an executive assessment of the varying component parts of ASEAN, assessing each member state and providing the most up-to-date economic and demographic data on each.
---
How to Set Up in the Philippines

In this issue of ASEAN Briefing magazine, we provide an introduction to the Philippines as well as analyze the various market entry options available for investors interested in expanding to the island nation. We also discuss the step-by-step process for setting up a business entity in the Philippines, highlighting the various statutory requirements for overseas investors. Finally, we explore the potential for Singapore to serve as a viable base to administer investors' Philippine operations.