Kra Canal Project Revisited As Part Of China's Maritime Silk Road
The Kra Canal project has swept back into vogue again after years of being dismissed as too difficult to build, and opposition from Singapore, who would lose huge amounts of shipping. A group of influential retired Thai generals, politicians, academics and businessmen with close links to China have revived plans to construct a US$28 billion and 135 kilometre canal across southern Thailand to link the Indian and Pacific oceans.
Calling themselves the Thai Canal Association of Study and Development, the body is trying to persuade Thailand's Prime Minister Prayuth Chanocha to approve a feasibility study. The plan would be one of the most ambitious mega-projects ever undertaken in Asia that could be funded through China's multi-billion dollar Belt and Road and New Maritime Silk Road initiatives, aimed at reshaping trade across Asia.
An Asian equivalent of the Suez or Panama canals, the so-called Kra canal would save at least 1200 kilometres, or two to three days sailing time, for ships bypassing the narrow, traffic-choked and piracy-prone Malacca Strait, which links China, Japan and other Asian nations to the oil fields of the Middle East and markets in Europe, Africa and India.
A record 84,000 ships passed through the Malacca Strait last year, close to its capacity. Meanwhile, the Thai Canal Association of Study and Development are hosting a conference this week, together with King Mongkut's Institute of Technology Ladkrabang, indicating the project has the support of the Thai monarchy. Thailand's Navy are also understood to be supportive of the plan, which would give the Thai Navy far better manuoeverability along Thailand's Eastern and Western coasts. At present, they too must make a detour around the Malacca Straits to move from one coast to the other.  Singapore, meanwhile, is deeply critical of the plan, which would seriously damage its port and shipping industries. Singapore is currently the worlds second largest Port after Shanghai, yet would lose an estimated 30 percent of its overall shipping traffic should the Straits of Malacca be bypassed. 
We first covered the Kra Canal potential back in 2009  as a feature on what was then described as China's String of Pearls strategy.  That has now morphed into the Maritime Silk Road. 
China would be one of the biggest beneficiaries of a 450-metre-wide and 26-metre deep canal capable of carrying the world's biggest oil tankers, container ships and bulk tankers. Beijing's Peking University and the Chinese company Grand Dragon International Holding Co. have helped survey the route. There are local concerns. Thai Prime Minister Prayuth Chanocha, himself an ex Army Officer, has previously said he did not support the project because separating Thailand's south could embolden Muslim-Malay separatists who have waged a bloody insurgency against the Thai state for more than a decade.
The Chinese, on the other hand, are believed to be keen to underwrite the construction and development costs, which involve construction over ten years employing 30,000 workers. If that happened, naturally China would wish to be the port operators, also effectively controlling the route. Singapore meanwhile has suggested that future port and shipping operations will concentrate more on smart technologies rather than purely physical location.  A conference this week – among the increasing trade demands of China, objections from Singapore, and differences of opinion from within Thailand's own Army and Navy – promises to usher in a new round of intriguing debate over what has already been a Kra Canal issue originally debated back on the 17th century. If it ever gets approved, it will be one of the biggest engineering and construction projects of this century.
About Us
ASEAN Briefing is published by Asia Briefing, a subsidiary of Dezan Shira & Associates. We produce material for foreign investors throughout Asia, including China, India, Indonesia, Russia, the Silk Road & Vietnam. For editorial matters please contact us here and for a complimentary subscription to our products, please click here.

Dezan Shira & Associates provide business intelligence, due diligence, legal, tax and advisory services throughout the ASEAN and Asia. We maintain offices in Singapore, as well as Hanoi & Ho Chi Minh City, and maintain Alliance offices in Bangkok, Jakarta, Kuala Lumpur and Manila as well as throughout China, South-East Asia, India and Russia. For assistance with ASEAN investments into any of the featured countries, please contact us at asean@dezshira.com or visit us at www.dezshira.com
Related Reading: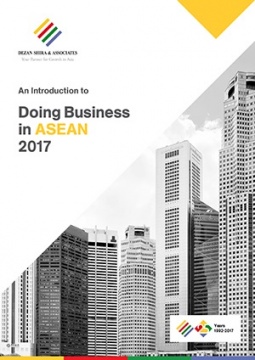 Doing Business in ASEAN introduces the fundamentals of investing in the 10-nation ASEAN bloc, concentrating on economics, trade, corporate establishment and taxation. We also include the latest development news in our "Important Updates" section for each country, with the intent to provide an executive assessment of the varying component parts of ASEAN, assessing each member state and providing the most up-to-date economic and demographic data on each. Additional research and commentary on ASEAN's relationships with China, India and Australia is also provided.
---
This unique and currently only available study into the proposed Silk Road Economic Belt examines the institutional, financial and infrastructure projects that are currently underway and in the planning stage across the entire region. Covering over 60 countries, this book explores the regional reforms, potential problems, opportunities and longer term impact that the Silk Road will have upon Asia, Africa, the Middle East, Europe and the United States.