India's Free Trade Agreements
Apr. 27 – Free trade agreements are normally made between two countries. Many governments, throughout the world have either signed FTA, or are negotiating or contemplating new bilateral free trade and investment contracts.
However, there are two types of free trade agreements: namely, bilateral and multilateral. Every customs union, trade common market, economic union, customs and monetary union also has a free trade area.
India looks at regional trading arrangements (RTAs) as "building blocks" towards the overall objective of trade liberalization. Therefore, it is participating in a number of RTAs which include structures such as free trade agreements (FTAs), preferential trade agreements (PTAs), and comprehensive economic cooperation agreements (CECAs).
Free Trade Agreement
A free trade agreement among two countries or group of countries agrees to abolish tariffs, quotas and preferences on most of the goods (if not all) between them. Countries choose an FTA if their economical structures are complementary, not competitive. India enjoys FTAs, till date, with the following two countries:
Srilanka (December 28, 1998)
Thailand (October 9, 2003)
Trade Agreements
It is a bilateral or multilateral treaty or any other enforceable compact which commits two or more nations to specified terms of commerce, most of time involving mutually beneficial concessions.
Bangladesh
Bhutan
Ceylon
Maldives
China
Japan
Korea
Mongolia
Trade Treaty
Comprehensive Economic Cooperation Agreement
Framework Agreement
A framework agreement is one which sets the period for future substantive liberalization by defining the scope and provisions of orientation for some new area of discussions. List of countries with which India enjoys a framework agreement with are as mentioned under:
GCC states i.e. the member states of the Cooperation Council for the Arab States of the Gulf
The Association of South East Asian Nations
Chile
Regional Agreement
South Asia Free Trade Agreement (SAFTA) with Pakistan, Nepal, Sri Lanka, Bangladesh, Bhutan and the Maldives.
Preferential Trade Agreement
This trade gives preferential right of entry to only certain products. It is done by dropping tariffs, but it does not abolish them completely. PTA is established through trade pact and it is the weakest form of economic integration. India enjoys PTA with the following countries:
Afghanistan
Chile
MERCOSUR – It is a trading community in Latin America comprising Brazil, Argentina, Uruguay and Paraguay. It has Chile and Bolivia as its associate members. MERCOSUR was formed in 1991 with the objective of facilitating the free movement of goods, services, capital and people among the four member countries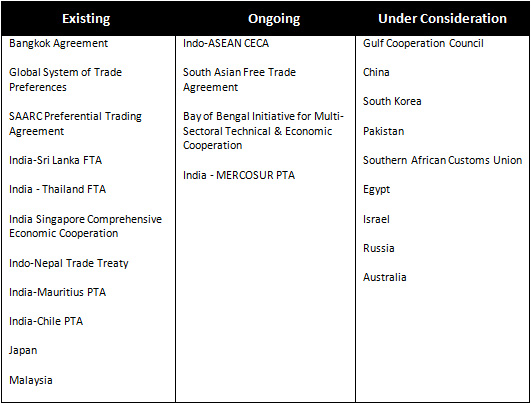 South Asian Free Trade Agreement
The Agreement on South Asian Free Trade Area (SAFTA) was approved by all the member States of the South Asian Association for Regional Cooperation (SAARC) during the twelfth 'SAARC Summit' held in Islamabad on January 4-6, 2004. Therefore, SAFTA came into force from January 1, 2006.
SAARC was recognized in Dhaka on December 7-8, 1985 with the objectives of:- promoting the interests of people of South Asia; increasing economic development and social progress; supporting active partnership in economic development and social progress; supporting active partnership in the economic, social, cultural, technical and scientific fields; intensification and cooperation in international forums on matters of similar interest; and cooperating with international and regional organizations with similar aims and purposes. Its members include Bangladesh, Bhutan, India, Maldives, Nepal, Pakistan and Sri Lanka.
The purpose of SAFTA is to endorse and improve mutual trade and economic cooperation among the 'Contracting States' by inter-alia:
Eliminating blockades to trade in, and facilitating the cross-border movement of goods between the territories of the Contracting States;
Promoting conditions of fair competition in the free trade area, and ensuring equitable benefits to all Contracting States, taking into account their respective levels and pattern of economic development;
Creating effective mechanism for the implementation and application of this Agreement, for its joint administration and for the resolution of disputes; and
Establishing a framework for further regional cooperation to expand and enhance the mutual benefits of this Agreement.
The instrument of SAFTA will be as follows according to the agreement:
Trade Liberalization Program
Rules of Origin
Institutional Arrangements
Consultations and Dispute Settlement Procedures
Safeguard Measures
Any other instrument that may be agreed upon
BIMSTEC (Bay of Bengal Initiative for Multi Sectoral Technical and Economic Cooperation)
Bangladesh India Myanmar Sri Lanka and Thailand Technical and Economic Cooperation were formed in 1997. A sub-regional monetary collaboration alliance was formed in Bangkok in June 1997. Myanmar joined the grouping later in December 1997. Bhutan and Nepal also joined in February 2004. Its association involves 5 members of SAARC (India, Bangladesh, Bhutan, Nepal & Sri Lanka) and two members of ASEAN (Thailand, Myanmar). Therefore, it is visualized as a 'bridging link' between the two major regional groupings i.e. ASEAN and SAARC. Its chairmanship of BIMSTEC revolves among the member countries in alphabetical order. The instant priority of the grouping is consolidation of its activities and making it attractive for economic cooperation.
At its first summit held in Bangkok on July 31, 2004, the short form BIMSTEC was renamed as "Bay of Bengal Initiative for Multi Sectoral Technical and Economic Cooperation."
Cooperation is proposed in 13 sectors and each sector is led by member countries. These sectors are as follows:
Trade and Investment (Bangladesh);
Technology (Sri Lanka);
Energy (Myanmar);
Transport and Communication (India);
Tourism (India);
Fisheries (Thailand);
Agriculture (Myanmar);
Cultural Co-operation (Bhutan);
Environment and Disaster Management (India);
Public Health (Thailand);
People-to-People Contact (Thailand);
Poverty Alleviation (Nepal);
Counter-Terrorism and Transnational Crimes (India)
Association of South East Asian Nations
ASEAN was started on August 8, 1967 in Bangkok by the five original member countries, specifically, Indonesia, Malaysia, Philippines, Singapore, and Thailand. Now, it has a membership of 10 countries namely Brunei Darussalam, Cambodia, Indonesia, Lao PDR, Malaysia, Myanmar, Philippines, Singapore, Thailand and Vietnam. India is one of the four 'Summit level Dialogue Partners' of ASEAN.
India's associations with the Association of South East Asian Nations (ASEAN) started with its "Look East Policy" in the year 1991. India's focal point on a strengthened and multi-faceted association with it is an result of ASEAN's economic, political and strategic significance in the larger Asia-Pacific Region and its potential to become a major partner of India in trade and investment.
It also provides a link for India to bond with the Asia-Pacific-centered economic policies shaping the 21st Century market place. While, ASEAN seeks admission to India's professional and technical strengths. India and ASEAN have convergence in their security perspectives.
A Framework Agreement on Comprehensive Economic Cooperation between ASEAN and India was signed on October 8, 2003 in Bali (Indonesia). The key elements of the agreement cover are FTA in Goods, Services and Investment, as well as areas of economic cooperation. The agreement also provided for an Early Harvest Programme (EHP) which covers areas of economic cooperation and a common list of items for exchange of tariff concessions as an assurance building measure.
The purposes of this agreement are as follows:
Reinforce and improve economic, trade and investment co-operation between the Parties;
Increasingly liberalize and support trade in goods and services as well as create a transparent, liberal and facilitative investment regime;
Search new areas and build up appropriate measures for closer economic co-operation between the Parties; and
Facilitate the more effective economic integration of the new ASEAN Member States and bridge the development gap among the Parties.
The areas of economic cooperation are as follows:
Where suitable, the Parties agree to strengthen their collaboration in the below areas, including, but not limited to:
Trade facilitation
Joint Recognition Arrangements, conformity assessment, accreditation procedures, and standards and technical regulations;
Non-tariff measures;
Customs cooperation;
Trade financing; and
Business visa and travel facilitation.
Sectors of cooperation
Agriculture, fisheries and forestry;
Services:- media and entertainment, health, financial, tourism, construction, business process outsourcing, environmental;
Mining and energy:- oil and natural gas, power generation and supply;
Science and technology:- information and communications technology, electronic-commerce, biotechnology;
Transport and infrastructure:- transport and communication;
Manufacturing:- automotive, drugs and pharmaceuticals, textiles, petrochemicals, garments, food processing, leather goods, light engineering goods, gems and jeweler processing;
Human resource development:- capacity building, education, technology transfer; and
Others: handicrafts, small and medium enterprises, competition policy, Mekong Basin Development, intellectual property rights, government procurement.
Trade and investment promotion
Fairs and exhibitions;
ASEAN-India web links; and
Business sector dialogues.
The countries consent to implement capacity building programmes and technical assistance, particularly for the New ASEAN Member States, in order to regulate their economic structure and increase their trade and investment with India.
Countries may set up other bodies as may be necessary to coordinate and execute any economic cooperation activities undertaken pursuant to this Agreement.
India-Mercosur Preferential Trade Agreement (PTA)
A framework agreement was signed between India and MERCOSUR on June 17, 2003. The plan of this framework agreement is to generate circumstances and mechanisms for discussions in the first stage, by granting mutual tariff preferences and in the second stage, to bargain a free trade area between the two parties in conventionality with the rules of the World Trade Organization. As a follow up to the framework agreement, a preferential trade agreement was signed in New Delhi on January 25, 2004. The plan of this Preferential Trade Agreement is to increase and reinforce the accessible relations between MERCOSUR and India and endorse the growth of trade by yielding mutual fixed tariff preferences with the ultimate objective of creating a free trade area between the parties.
MERCOSUR is a trading community in Latin America formed in 1991 and comprising Brazil, Argentina, Uruguay and Paraguay. It was formed with the objective of facilitating the free movement of goods, services, capital and people among the four member countries. It is the fourth largest integrated market after the European Union (EU), North American Free Trade Agreement (NAFTA) and ASEAN.
Other trade agreements
India and Singapore Comprehensive Economic Cooperation Agreement
India-Sri Lanka Free Trade Agreement
India-Chile Preferential Trade Agreement
India-Afghanistan Preferential Trade Agreement
India-Bhutan Trade Agreement
India-Nepal Trade Treaty
Framework agreement for establishing free trade between India and Thailand
Free trade agreement between India and Gulf Cooperation Council (GCC)
India-Japan trade agreement
Joint study group between India and Korea
Trade agreement between India and Bangladesh
Comprehensive economic cooperation and partnership agreement between India and Mauritius
Benefits of businesses under India's FTA
Under free trade agreements, duties are slashed or eliminated on various items, which may have a bearing on the domestic industry
Greater coordination and cooperation in customs administration, and banking relationships would also be highly beneficial
An evident appeal of an FTA is that members obtain preferred access to the markets of other members
Members of trade agreements can also secure agreements in FTAs for rules that bestow advantages upon their trading partners and decrease trade irritants and limitations that could not otherwise be secured from multilateral trade agreements
Accord and augment long term market access opportunities for Indian products and services
FTAs would enable Indian industries to source inputs at more competitive prices
FTAs would offer trade facilitation measures for industries to expand trade, as well as capacity building to improve and enhance their competitiveness
India's double taxation avoidance treaty
Double taxation is the responsibility of two or more taxes on the same income (in the case of income tax), asset (in the case of capital taxes), or financial transaction (in the case of sales taxes).
Double taxation treaty needs to qualify following conditions:
Taxation by two or more countries of the same income, asset or transaction, for example income paid by an entity of one country to a resident of a different country.
The constitution of India has awarded the sovereign powers to charge taxes and to implement collection and recovery thereto on the State under Article 265 by providing that no taxes shall be charged or accumulated except by authority of law.
Double taxation arises when an entity is required to pay two or more taxes for the same income, asset, or financial transaction in diverse countries. Double taxation arises largely due to overlapping tax laws and regulations of the countries where an individual operates his business.
What all double taxation avoidance (DTA)treaty covers?
A usual DTA agreement between India and another country generally covers persons who are residents of India or the other contracting country, which has entered into the contract with India. A person, who is not resident either of India or of the other contracting country, would not be allowed to profit under DTA agreements.
Dezan Shira & Associates is boutique professional services firm providing foreign direct investment business advisory, tax, accounting, payroll and due diligence services for multinational clients in India. To contact the firm, please email india@dezshira.com, visit www.dezshira.com, or download the firm's brochure here.