India-Myanmar Sign Key Trade and Development Deals
Infrastructure includes road linking India to Thailand
May 29 – Indian Prime Minister Manmohan Singh, in Myanmar meeting with President Thein Sein this week, has agreed on a number of key investment and development projects with the country. It has been the first visit to Myanmar by an Indian PM in 25 years.
Among the various agreements signed has been an air services project, which will provide 18 Indian cities with flights to Myanmar and also allow them to combine these with onward flights to other Asian destinations. Indian companies will also explore oil in some of Myanmar's blocs, while border trade zones will be set up at Arunachal Pradesh at the Pangsau Pass.
Also on the agenda is the construction of a trilateral road, to be operational by 2016, that will link India to Thailand. Called the Tamu-Kalewa Friendship Road, India will repair some 76 bridges along the route, which has become impassable. The route will be upgraded to highway standard, exiting India at Moreh, taking in Pha Yar Gyi in Myanmar, and arriving at the Thai border at Mae Sot.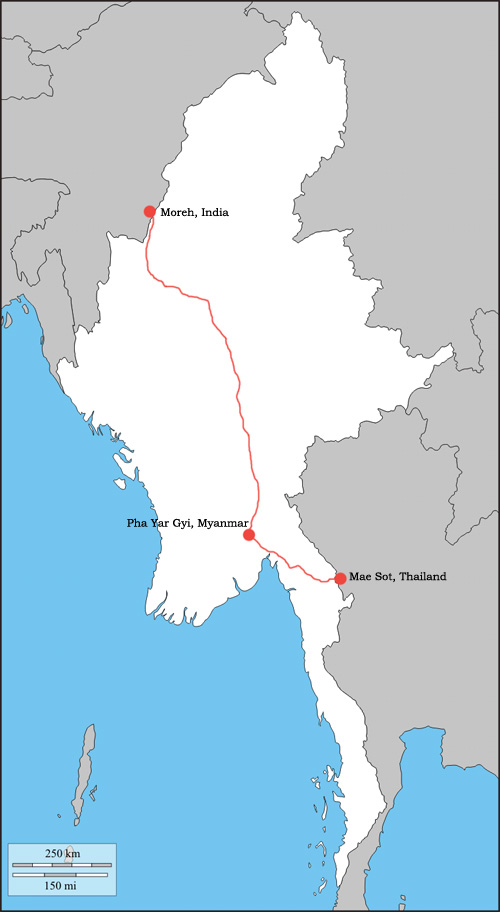 Other agreements signed include the United Bank of India opening branches in Myanmar, while the Reserve Bank of India and Central Bank of Myanmar will have a MOU concerning currency swaps. India has also granted Myanmar a US$500 million line of credit for development purposes – including agriculture, irrigation, education, rail and power.
Dezan Shira & Associates is a boutique professional services firm providing foreign direct investment business advisory, tax, accounting, payroll and due diligence services for multinational clients in India. For more information, please contact india@dezshira.com, visit www.dezshira.com, or download the firm's brochure here.