Australia, Malaysia Sign Free Trade Agreement
97 percent of traded goods to be rated at zero tariffs with immediate effect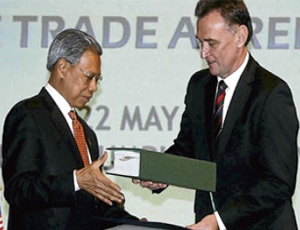 May 23 – Australia and Malaysia signed a free trade agreement yesterday that brings about a considerable easing of tariffs and trade between the two countries. The Malaysia-Australia Free Trade Agreement (MAFTA) was signed off by the respective trade ministers of each nation, namely Datuk Seri Mustapa Mohamed and Craig Emerson. The agreement covers 97 percent of all goods, including small cars, rice and wine. Some 99 percent of these products have had tariffs reduced to zero.
The FTA also permits Australian businesses to invest in Malaysian businesses previously under the restricted industry category, including those in the services industry and markets such as tourism, education, insurance, and telecoms among other areas. Australian equity is now permitted at a level of up to 70 percent ownership in these markets.
Australia and Malaysia already have agreements in place under the ASEAN-Australia-New Zealand FTA which came into effect in 2010, as Malaysia is also a member of ASEAN. However this new FTA, which comes into effect immediately, enhances that and has a far broader scope than the ASEAN document. Bilateral trade between Australia and Malaysia is currently worth some A$13 billion annually, however this agreement is expected to see that figure skyrocket.
Australian companies interested in taking advantage of this agreement and reducing corporate tax burdens may consider Singapore as a base for holding companies to trade through ASEAN and Malaysia. Singapore levies a 17 percent corporate income tax rate, lower than Australia's 30 percent flat rate, and does not charge tax on income earned externally from its borders (such as in Malaysia). Details on setting up and operating a Singapore holding company may be downloaded on the Asia Briefing Bookstore.
A complete breakdown concerning the benefits of ASEAN and its free trade and double tax agreements, plus the use of Singapore as a base for branching out into ASEAN nations, appeared yesterday on the China Briefing website.
A full copy of the MAFTA Agreement can be downloaded here.
Dezan Shira & Associates can assist Australian companies in Asia. The firm provides corporate establishment, tax planning, due diligence, and ongoing tax filing, accounting and related services to foreign investors throughout the region. Please email asia@dezshira.com or visit the practice at www.dezshira.com.