For ASEAN Future FTA Deals, Look Towards Vietnam
With Vietnam just becoming the first Asian country to sign off a Free Trade Agreement with the Moscow backed Eurasian Economic Union, the relevance of how Vietnam plays its bilateral trade agreements has suddenly taken on a more interesting slant. Vietnam has been a member of ASEAN since 1995, and has been embarking on a specific set period of reform and opening up since 2012, when its "Three Pillars" scheme was announced, intending to restructure public investment, state-owned enterprises and the banking sector. This has reached some urgency with Vietnam set to attain ASEAN Economic Community compliance by the end of this year. When completed, Vietnam, like the other major ASEAN nations of Indonesia, Malaysia, Philippines, Singapore and Thailand, will reduce tariffs on 97% of all imported products to zero. This mutual agreement also extends to the Free Trade Agreements ASEAN as a bloc has with both China and India – and is the primary reason that China-Vietnamese trade is expected to significantly increase from January 2016. This will bring Vietnam up to speed with its larger ASEAN counterparts.
However, as the FTA with the EEU has shown, Vietnam is confident enough to embark on its own negotiations, and to take a leading regional role. An upcoming negotiation of note is the Vietnam-European Union FTA, which has been under discussion for some time. ​Such discussions always take time, however it is understood that the negotiations between the two parties are at a highly advanced stage. A deal could be signed off later this year.
Vietnam, as is common amongst all ASEAN nations, is engaged in separate FTA discussions rather than collectively under the ASEAN bloc. The EU agreement with Singapore is pending ratification. Negotiations with Thailand were suspended by the EU last year, and this year Thailand lost EU preferential tariffs. EU-Thailand negotiations are not expected to resume fully until after elections in Thailand, tentatively scheduled for September 2016.
Should Vietnam succeed in both agreeing a deal with the EU and then implementing that, it would be a game changer for the region. It would push more China and Asian based manufacturers to invest in Vietnam in order to access the wealthy EU markets, and practically deliver Vietnam as a very serious competitor to China for a share of the global manufacturing market.
RELATED: The Cost of Business in Vietnam Compared With China
While the other ASEAN nations, China and India are all engaged in various stages of discussions with the EU, the Vietnam negotiations promise to lead the way. EU negotiators will have learned a great deal about emerging Asia as a whole during this process, which may make future EU agreements with Indonesia, Malaysia, Philippines and Thailand easier to navigate. But as regards Asian relations with the EU, eyes are all on Vietnam to see what can be delivered.

About Us
Asia Briefing Ltd. is a subsidiary of Dezan Shira & Associates. Dezan Shira is a specialist foreign direct investment practice, providing corporate establishment, business advisory, tax advisory and compliance, accounting, payroll, due diligence and financial review services to multinationals investing in China, Hong Kong, India, Vietnam, Singapore and the rest of ASEAN. For further information, please email vietnam@dezshira.com or visit www.dezshira.com.
Stay up to date with the latest business and investment trends in Asia by subscribing to our complimentary update service featuring news, commentary and regulatory insight.
‍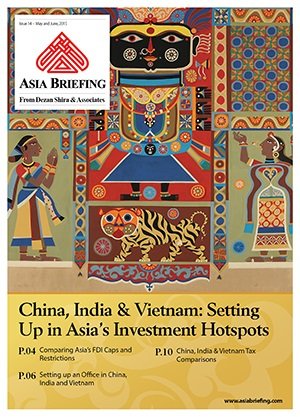 China, India & Vietnam: Setting Up in Asia's Investment Hotspots
This issue of Asia Briefing Magazine is a guide to investing and establishing a business in Asia, focusing on the markets of China, India and Vietnam. We begin by analyzing how investment is treated in specific industries across these three countries. We then take a look at the investment vehicles that a foreign business can select, with an emphasis on representative offices (ROs) and liaison offices (LOs). Finally, we highlight the various forms of taxation that a foreign company should be aware of when entering the Asian market.
Using Vietnam's Free Trade & Double Tax Agreements
In this issue of Vietnam Briefing we explore how Vietnam's Free Trade Agreements – and especially those via its membership in ASEAN – will affect foreign investment into Vietnam. We also go a step further and examine the specific, bilateral Double Tax Agreements that Vietnam has enacted, and how these can be further used to minimize profits and withholding taxes that would otherwise be levied upon foreign investors.
Import and Export: A Guide to Trade in Vietnam
In this issue of Vietnam Briefing Magazine, we provide you with a clear understanding of the current business trends related to trade in Vietnam, as well as explaining how to set up your trading business in the country. We also attempt to give perspective on what will be Vietnam's place in the Association of Southeast Asian Nations (ASEAN) in 2015, and look at some of the country's key import and export regulations.