Oportunidades Para Empresas Latinoamericanas en ASEAN
Escrito por Dominik Grossalber y Oscar Mussons
La Asociación de Naciones del Sudeste Asiático (ASEAN por sus siglas en inglés) representa un mercado poco explorado pero con enorme potencial para las empresas de América Latina. El bloque económico asiático incorpora países de varios niveles de desarrollo económico y tamaño, desde la pequeña pero altamente desarrollada ciudad-estado de Singapur hasta la vasta y diversa nación insular de Indonesia. Sin embargo, lo que reúne a los diez países de ASEAN es tanto un fuerte crecimiento económico en las últimas décadas como una predicción favorable para su futuro desarrollo.
Aunque las relaciones económicas entre América Latina y ASEAN aún no son muy estrechas, han crecido de forma acelerada en los últimos años y, como consecuencia, ya existen bastantes empresas latinoamericanas que se aprovechan de las oportunidades del enorme mercado del Sudeste Asiático. A pesar de la distancia geográfica y cultural, puede resultar incluso más fácil para las empresas latinas exportar hacia ASEAN que hacia otros mercados más tradicionales en América o Europa. Es importante mencionar que varios de los países miembros del bloque ocupan ya puestos destacados en estudios sobre la facilidad de hacer negocios a nivel mundial, siendo notables Singapur (1) y Malasia (18) en el Doing Business Index del Banco Mundial; a lo que se le suma, por ejemplo, la firma del Acuerdo Transpacífico de Cooperación Económica (TPP) que ayudará a facilitar los negocios para aquellas empresas provenientes de los países signatarios: Chile, México y Perú en Latinoamérica y Brunei, Malasia, Singapur y Vietnam en ASEAN.
Las empresas latinoamericanas podrán encontrar destacadas oportunidades de negocio en la riqueza de sus recursos naturales y sus materias primas, fomentado en gran medida por la demanda feroz de las crecientes economías de ASEAN por ellos. Entre los productos más importados por parte del bloque económico, los siguientes se presentan como las oportunidades más grandes para las empresas latinoamericanas:
Soja y sus derivados: Los países del MERCOSUR ya exportan una significante cantidad de soja y productos derivados de ella al Sudeste Asiático. Sin embargo, la enorme población de la región y la prevalencia de soja en las cocinas tradicionales siguen generando una demanda aún más grande.
Carne y productos lácteos: El impresionante crecimiento económico de ASEAN ha creado una clase media vibrante y creciente que está cambiando sus hábitos de consumo. Un aumento en el consumo de carne y de productos lácteos ha generado un mercado creciente para la exportación de estos alimentos a la región.  Aunque los productos lácteos siguen siendo tratados como un producto de lujo, es posible lograr, en muchos casos, beneficios impresionantemente altos.
Metales: Destacan tres metales y productos manufacturados de ellos importados frecuentemente a ASEAN. Productos que las empresas latinoamericanas, dependiendo de su país de origen podrán proveer: hierro, cobre y aluminio. Empresas chilenas ya están exportando una cantidad notable de cobre a los mercados de ASEAN y es probable que puedan aprovecharse aún más de las oportunidades existentes con la firma del TPP. Aunque se verán enfrentados a un fuerte competidor en forma de empresas siderúrgicas chinas, los productores latinoamericanos podrán conquistar una parte del mercado más grande si logran utilizar las ventajas de sus países de origen y la expansión del libre comercio entre las diversas regiones de América Latina y ASEAN. 
Algodón y tejido: Como materia prima para la gran industria textil de algunos países de ASEAN, el algodón también presenta una oportunidad para la exportación para empresas latinoamericanas. También existe ya una cierta cantidad de exportaciones de este producto desde América Latina al bloque económico asiático y las empresas que logren ofrecer un precio competitivo también encontrarán en esta región un mercado trepidante.
Puntos clave
ASEAN puede presentar una gran oportunidad de negocios para empresas latinoamericanas, sobre todo las que se dedican a la producción y exportación de un número de materias primas ya importadas en grandes cantidades por el Sudeste Asiático. Acuerdos de libre comercio como el TPP y la convergencia en la legislación de los países de la región hacen que la exportación a ASEAN sea más fácil que nunca. Sin embargo, cabe resaltar que ASEAN sigue representando una mezcla diversa de economías y ámbitos jurídicos. Es importante, por consiguiente, planear de antemano la entrada a este mercado y es más que aconsejable buscar los servicios de una consultoría con experiencia en la región que pueda facilitar los negocios en este mercado lejano y evitar verse abocados, de este modo, a complicaciones jurídicas o fiscales en una región todavía desconocida para Latinoamérica.
INTRODUCCIÓN A DEZAN SHIRA & ASSOCIATES
Con décadas de experiencia operando en la región, los especialistas de Dezan Shira y Asociados se encuentran bien posicionados para ayudar a compañías de habla hispana a superar estas barreras y lograr el éxito empresarial no sólo en Vietnam, sino en el resto del continente asiático. A través de nuestro  Spanish Desk estamos para asistirle. Para obtener más información, por favor contáctenos en la siguiente dirección: spanishdesk@dezshira.com

About Us
Asia Briefing Ltd. is a subsidiary of Dezan Shira & Associates. Dezan Shira is a specialist foreign direct investment practice, providing corporate establishment, business advisory, tax advisory and compliance, accounting, payroll, due diligence and financial review services to multinationals investing in China, Hong Kong, India, Vietnam, Singapore and the rest of ASEAN. For further information, please email vietnam@dezshira.com or visit www.dezshira.com.
Stay up to date with the latest business and investment trends in Asia by subscribing to our complimentary update service featuring news, commentary and regulatory insight.
‍
Annual Audit and Compliance in Vietnam 2016
In this issue of Vietnam Briefing, we address pressing changes to audit procedures in 2016, and provide guidance on how to ensure that compliance tasks are completed in an efficient and effective manner. We highlight the continued convergence of VAS with IFRS, discuss the emergence of e-filing, and provide step-by-step instructions on audit and compliance procedures for Foreign Owned Enterprises (FOEs) as well as Representative Offices (ROs).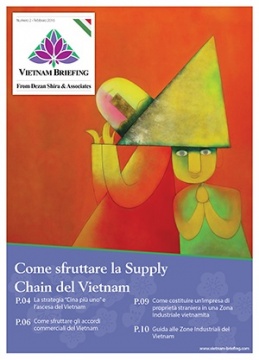 Navigating the Vietnam Supply Chain
In this edition of Vietnam Briefing, we discuss the advantages of the Vietnamese market over its regional competition and highlight where and how to implement successful investment projects. We examine tariff reduction schedules within the ACFTA and TPP, highlight considerations with regard to rules of origin, and outline the benefits of investing in Vietnam's growing economic zones. Finally, we provide expert insight into the issues surrounding the creation of 100 percent Foreign Owned Enterprise in Vietnam.
Tax, Accounting and Audit in Vietnam 2016 (2nd Edition)
This edition of Tax, Accounting, and Audit in Vietnam, updated for 2016, offers a comprehensive overview of the major taxes foreign investors are likely to encounter when establishing or operating a business in Vietnam, as well as other tax-relevant obligations. This concise, detailed, yet pragmatic guide is ideal for CFOs, compliance officers and heads of accounting who must navigate Vietnam's complex tax and accounting landscape in order to effectively manage and strategically plan their Vietnam operations.