Obama to Visit Myanmar, New Foreign Investment Law Released
By Daniel Fleishman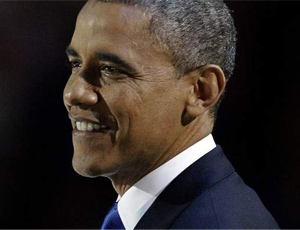 Nov. 9 – U.S. President Barack Obama, who won a second term in office this past Tuesday, will be taking a trip to Myanmar later this month as part of a broad tour of Southeast Asia. He will make history as the first American president to visit Myanmar and the second high-level U.S. official, after Secretary of State Hilary Clinton, to visit since the country's recent transition from decades of military rule to a quasi-civilian government under President Thein Sein.
Obama's visit is seen as a significant step in the already-improving relations between the United States and the impoverished Myanmar, whose economy has been suffering from an ineffective command economy, institutional corruption, and heavy international economic sanctions.
However, despite the widely criticized 2010 General Election, in which President Thein Sein took power with 91.2 percent of votes, Myanmar has since shown a willingness to shift towards a more democratic system. Mere days after Sein took power, Nobel Prize-winning political dissident Aung San Suu Kyi was freed after 15 years of house arrest and was subsequently elected to parliament this past April. This important development has prompted Obama to resume diplomatic relations with Myanmar's government, pushing them to more extensive reforms over the past year. The United States has since eased sanctions and sent an ambassador to the country. Obama's visit, during which he will meet with both Sein and Suu Kyi, shows the administration's commitment to assisting with government reform, as well as establishing an ally in a geopolitically critical region.
Many are critical of Obama's visit, calling it significantly premature. Opponents cite extensive corruption, human rights abuses, and the jailing of political opponents as an ever-present crisis, and worry that Obama's visit might give legitimacy to a still-oppressive regime.
"There are a lot of really serious outstanding human rights issues that warrant the president taking a deeper look at fixing those problems and seeing resolutions to those issues before he goes and gives the sort of stamp of approval to President Thein Sein," said Jennifer Quigley, a spokesperson for the U.S. Campaign for Burma.
While the trip has been widely protested in the Myanma diaspora and supporting organizations, it enjoys support from groups who believe that it will show the government that Myanmar's international standing will improve if it continues on its path of reform.
"It's a good time to show American support for what has taken place," said Gordon Hein, vice president of the Asia Foundation, an NGO that recently got permission to return to Myanmar 50 years after it was forced out by the ruling military junta. "It's true there's still unfinished business to be done in the reform process, but if one waited until every major issue was successfully resolved, that would be a long wait for any country."
Premature or not, there is no doubt that increased U.S. support will work wonders for Myanmar's economy. The removal of sanctions has already resulted in a trickle of FDI interest in Myanmar's large supply of cheap labor and extensive natural resources. In another move that will likely support greater FDI interest, Sein signed off on Myanmar's new Foreign Investment Law last Friday after months of debate between the country's executive and legislative branches of government. The law is significant as it outlines new regulations, measures and directions the country will take as concerns its foreign investment policy. An unofficial English translation of the new Foreign Investment Law, kindly translated by the Eleven Media Group, can be downloaded here.
Obama plans on making a stop in Thailand, a longtime U.S. ally, before heading off to Cambodia, where he will attend a summit of the leaders of the Association of Southeast Asian Nations in Phnom Penh. This, too, has stirred controversy, as parties ranging from humanitarian organizations to bipartisan Congressional groups urge the president to issue a condemnation of Cambodian dictator Hun Sen's reprehensible human rights record. The White House has yet to issue any statements on the matter, but will undoubtedly have to address these critical issues in the near future.