The Guide to Manufacturing in Indonesia – New Issue of ASEAN Briefing Magazine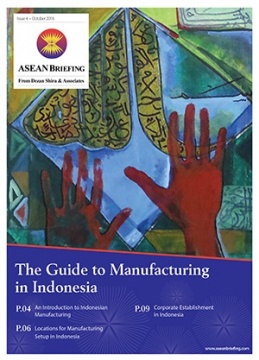 The latest issue of ASEAN Briefing Magazine, titled "The Guide to Manufacturing in Indonesia", is out now and available to subscribers as a complimentary download in the Asia Briefing Publication Store through the month of November.
In this issue of ASEAN Briefing:
An Introduction to Manufacturing in Indonesia
Locations for Manufacturing Setup in Indonesia
Corporate Establishment in Indonesia
Choosing if, where, and how to establish foreign manufacturing operations in Indonesia can be a significant challenge. The archipelago's low costs and rising stature in production and assembly make it an attractive location for investment. However, tapping into these opportunities requires a high degree of understanding regarding the nation's social and regulatory cleavages and presents numerous challenges for even the most weathered investors.
While developing an understanding of Indonesia's vast diversity may seem daunting, a number of options are available to investors which allow entry and operations to be conducted in a seamless manner. Key considerations in this regard include maintaining an up-to-date knowledge of Indonesia's corporate establishment guidelines, and a firm understanding of the special incentives and production locations that Indonesia provides to those setting up facilities within the country.
In this issue of ASEAN Briefing, we discuss the growing importance of Indonesia as a hub for manufacturing within Southeast Asia, and provide guidance on how to select and establish operations within the country. We analyze demographics and government policies driving growth, highlight the importance of location in achieving operational success, and outline steps required to establish foreign invested manufacturing operations within Indonesia.
Dezan Shira & Associates has a growing team of Tax and Corporate Advisory specialists within Indonesia and ASEAN at large with years of experience helping foreign enterprises set up operations within the region. For questions or information on manufacturing, corporate establishment, or other issues related to entering the Indonesian marketplace, please contact our office in Indonesia.

About Us
Asia Briefing Ltd. is a subsidiary of Dezan Shira & Associates. Dezan Shira is a specialist foreign direct investment practice, providing corporate establishment, business advisory, tax advisory and compliance, accounting, payroll, due diligence and financial review services to multinationals investing in China, Hong Kong, India, Vietnam, Singapore and the rest of ASEAN. For further information, please email asean@dezshira.com or visit www.dezshira.com.
Stay up to date with the latest business and investment trends in Asia by subscribing to our complimentary update service featuring news, commentary and regulatory insight.
 ‍
Annual Audit and Compliance in ASEAN

For the first issue of our ASEAN Briefing Magazine, we look at the different audit and compliance regulations of five of the main economies in ASEAN. We firstly focus on the accounting standards, filing processes, and requirements for Indonesia, Malaysia, Thailand and the Philippines. We then provide similar information on Singapore, and offer a closer examination of the city-state's generous audit exemptions for small-and-medium sized enterprises.
The Trans-Pacific Partnership and its Impact on Asian Markets
The United States backed Trans-Pacific Partnership Agreement (TPP) includes six Asian economies – Australia, Brunei, Japan, Malaysia, Singapore and Vietnam, while Indonesia has expressed a keen willingness to join. However, the agreement's potential impact will affect many others, not least of all China. In this issue of Asia Briefing magazine, we examine where the TPP agreement stands right now, look at the potential impact of the participating nations, as well as examine how it will affect Asian economies that have not been included.

An Introduction to Tax Treaties Throughout Asia
In this issue of Asia Briefing Magazine, we take a look at the various types of trade and tax treaties that exist between Asian nations. These include bilateral investment treaties, double tax treaties and free trade agreements – all of which directly affect businesses operating in Asia.