ASEAN-India Free Trade Area Part IV: Thailand, Singapore and Malaysia
By Alex Tangkilisan
Mar. 7 – In the fourth and final part of our ASEAN-India Free Trade Area analysis, we will examine trade trends and statistics from India to Thailand, Singapore and Malaysia.
Thailand, Singapore and Malaysia account for three of ASEAN's six major economies known as the ASEAN six majors (the other three being Indonesia, the Philippines and Vietnam). Together, these three countries combine for a GDP of US$864.02 billion, a population of 101.6 million and exports to India amounting to US$23.5 billion (or, about 5 percent of India's total imports).
Thailand–India Trade
Diplomatic relations between India and Thailand were established soon after India gained independence in 1947. Bilateral relations began to rapidly improve when India launched its "Look East" policy in the early 1990s.
After 1993, India's all-round relations with Thailand began to prosper and grow, particularly in areas such as trade and investments, tourism, science and technology. In 1996, Thailand instituted a "Look West" policy, which set the stage for enhanced bilateral relations between the two countries. These policies actively complement and reinforce each other, enabling greater economic cooperation.
India and Thailand launched bilateral and regional free trade agreement (FTA) negotiations during 2003. A result of this was the Early Harvest Scheme (EHS), which functioned as a sort of FTA in goods, services and investments between the countries. The agreement eliminated tariffs on a number of goods, including fruits, chromium ores and concentrates, acrylic polymers, precious and semi-precious stones, jewelry, alloy, iron and steel.
As bilateral ties grew, economic and commercial links tightened which led to the signing of a large number of agreements. Thailand and India now cooperate in various multilateral forums such as India's dialogue partnership with ASEAN, the ASEAN Regional Forum (ARF), the East Asia Summit, and trilateral transport linkages with Thailand, Myanmar and India. India is also a member of the Asia Cooperation Dialogue (ACD) which Thailand initiated in 2002, and of the Mekong–Ganga Cooperation (MGC).
India and Thailand are currently working to almost double bilateral trade to over US$14 billion by 2014.
Singapore-India Trade
India and Singapore have enjoyed strong bilateral relations ever since Singapore's independence in 1965. Singapore was even one of the first countries to respond to India's "Look East" policy of expanding its economic, cultural and strategic ties in the ASEAN region.
Singapore now accounts for 38 percent of India's trade with ASEAN member nations and 3.4 percent of its total foreign trade. India's main exports to Singapore include petroleum, gemstones, jewelry and machinery, and its imports include electronic goods, organic chemicals and metals from Singapore.
In 2005, Singapore and India signed a Comprehensive Economic Cooperation Agreement (CECA). The CECA eliminated tariff barriers, double taxation, duplicate processes and regulations, and provided access and cooperation opportunities between Indian and Singaporean banks and financial institutions.
The CECA also advanced bilateral cooperation in education, science and technology, intellectual property and aviation. It further relaxed visa regulations for Indian professionals wanting to emigrate to Singapore and work in the information technology, medicine, engineering and financial fields.
Singapore, which is now India's 8th largest source of investment (the largest among ASEAN member states), has also invested in projects to upgrade India's ports and airports, in addition to developing information technology parks. Both nations are also working to collaborate on aviation, aerospace engineering, space programs, information technology, biotechnology and energy.
Singapore is currently the second-largest source of foreign direct investment (FDI) into India after having invested US$15.67 billion between 2000 and 2011. Conversely, Indian FDI into Singapore stood at US$23.42 billion in 2012, making India the eighth largest foreign investor in Singapore.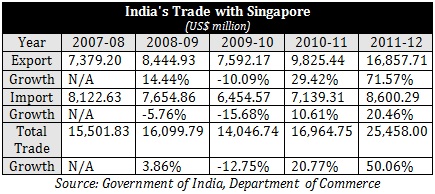 Malaysia-India Trade
India and Malaysia have a long history of trade and cultural relations, with diplomatic ties initially being established in 1957. India is currently one of Malaysia's largest trading partners.
In 2011, Malaysia and India singed a comprehensive economic cooperation agreement (CECA). The CECA functions as a free trade pact covering trade in goods, services and investment.
Malaysia is the 24th largest investor in India with cumulative FDI inflows valued at US$2 billion from 1991 to 2010. On the other hand, India is the 7th largest investor in Malaysia, with Indian investment growing to approximately US$2 billion since 1991. There are over 100 Indian companies (including 60 Indian joint ventures) that currently operate in Malaysia, and a further 60 Indian IT companies operating out of Malaysia.
India and Malaysia are currently negotiating an FTA that will cover construction-related engineering services, education, tourism, healthcare, travel-related services and transport services in addition to pharmaceuticals and biotechnology.
Since 1998, India has been Malaysia's largest export destination in South East Asia. Malaysia's major exports to India include electrical and electronic products, chemicals, metal and palm oil. Malaysia's main imports from India include chemicals and meat products.
India's bilateral trade with Malaysia is expected to reach US$20 billion by 2015.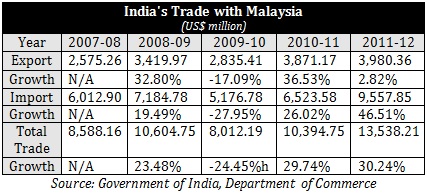 This marks the conclusion of Asia Briefing's ASEAN-India Free Trade Area analysis. The entire series can be found below: