The Lao government has increased the country's monthly minimum wage from Kip 900,000 (US$108) to Kip 1,100,000 (US$132) with effect from May 1, 2018. An increase of 11 percent, the wage increase will apply to all businesses and factories established in the country. This is the third such raise in the last eight years. In early 2012, the minimum monthly wage doubled from Kip 348,000 (US$41.5) to Kip 626,000 (US$74.7). In 2015, it rose to Kip 900,000 (US$107.4).
 RELATED: Payroll and Human Resources Services from Dezan Shira & Associates
According to the Lao government and the Lao Federation of Trade Unions (LFTU), that had petitioned for the minimum wage to be increased, the hike will help improve the labor standards in Laos and address the rising cost of living in the country. Besides, the government hopes the wage increase will motivate a large number of Laotians working in neighboring countries such as Thailand and Vietnam, to return and contribute to its manufacturing sector.
The revised wages, however, are still significantly below those in neighboring countries;  the current minimum daily wage in Thailand ranges from Baht 308 (US$9.6) to Baht 330 (US$10.28), depending on the province, which is approximately Baht 9240 (US$288) to Baht  9900 (US$308.5) a month.
For Laos' low-cost manufacturing sector which remains at a nascent stage of development, the increase in the minimum wages means narrower profit margins, increased competition from cheaper producers elsewhere in Southeast Asia, and perhaps, prospective laying off of low-skilled workers. The raise also significantly impacts the operating cost of business units. Businesses in Laos are now also liable to pay an additional wage of Kip 200,000 (US$23.8) per month or Kip 2,400,000 million (US$286.4) per annum per employee, lowering Laos' appeal for foreign investors.
About Us
ASEAN Briefing is published by Asia Briefing, a subsidiary of Dezan Shira & Associates. We produce material for foreign investors throughout Asia, including China, India, Indonesia, Russia, the Silk Road & Vietnam. For editorial matters please contact us here and for a complimentary subscription to our products, please click here.
Dezan Shira & Associates provide business intelligence, due diligence, legal, tax and advisory services throughout the ASEAN and Asia. We maintain offices in Singapore, as well as Hanoi & Ho Chi Minh City, and maintain Alliance offices in Bangkok, Jakarta, Kuala Lumpur and Manila as well as throughout China, South-East Asia, India and Russia. For assistance with ASEAN investments into any of the featured countries, please contact us at asean@dezshira.com or visit us at www.dezshira.com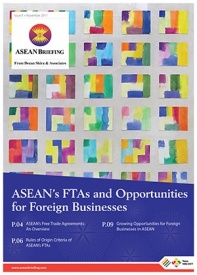 ASEAN's FTAs and Opportunities for Foreign Businesses
In this issue of ASEAN Briefing magazine, we provide an introduction to some of ASEAN's FTAs and how foreign investors and exporters can maximize opportunities in this dynamic region. We begin by discussing the salient features of each FTA and the overall benefits they offer. We then discuss the Rules of Origin crite..
---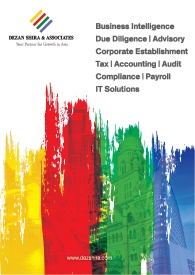 Dezan Shira & Associates' Service Brochure
Dezan Shira & Associates´ brochure offers a comprehensive overview of the services provided by the firm. With its team of lawyers, tax experts, auditors and consultants, it is Dezan Shira´s mission to guide investors through Asia´s complex regulatory environment and assist with all aspects of establishing, maintaini..
---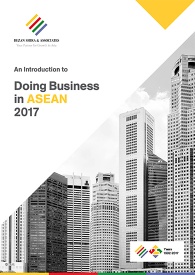 An Introduction to Doing Business in ASEAN 2017
Doing Business in ASEAN introduces the fundamentals of investing in the 10-nation ASEAN bloc, concentrating on economics, trade, corporate establishment and taxation. We also include the latest development news in our "Important Updates" section for each country, with the intent to provide an executive assessment o..
---