By Dezan Shira & Associates
Editor: Vasundhara Rastogi
In January 2017, the government of the Kingdom of Cambodia and the European Patent Organization (EPO) entered into an agreement on validation of European patents. The agreement came into effect on March 1, this year and makes Cambodia the first Asian country to grant validation to European patents. Similar agreements have come into force between the EPO and Morocco, between the EPO and Moldova, and between the EPO and Tunisia in the last three years.
The validation agreement gives the European patent holder an option of requesting for validation of their patent in Cambodia. In other words, the EU patent holders can request for protection of their patent in Cambodia without requiring to file a national patent in the country. The validation will allow the European patent to have the same effect as a national Cambodian patent and the enforcement of such validated patent rights will be subject to Cambodian patent law. According to the national patent law, applicants must meet the following requirements to validate their patents in Cambodia.
The European patent must have a filing date on or after March 1, 2018;
The claims of the patents in Cambodia must be translated into Khmer language and submitted within six months from the filing date; and
The European patent must meet the Cambodian requirements for the patent protected subject matter.
For European patent applicants, one of the key advantages that the validation offers is that it will now be possible for them to cover up to 44 countries – European states as well as Morocco, Moldova, Tunisia, and Cambodia – with a single European patent application. For Cambodia, it is an opportunity as the validation of EU patents offers incentives for its owners to consider investing in Cambodia. The validation agreement could significantly improve Cambodia's competitiveness and attract more European investors.
It is, however, important to note that European patents for pharmaceutical products will not be validated in Cambodia; the country currently benefits from the World Trade Organization's waiver that allows Least Developed Countries (LDCs), including Cambodia, to avoid granting and enforcing intellectual property rights on pharmaceutical products until 2033.
Applicants can, however, benefit from a "mailbox system" available under the agreement on Trade-Related Aspects of Intellectual Property Rights (TRIPS) which authorizes the filing of patent applications for pharmaceutical products, even if they are excluded from patent protection. Under this system, applicants can file their applications which will be stored and examined only after the lifting of the exemption, which is due to run until January 1, 2033.
About Us
ASEAN Briefing is published by Asia Briefing, a subsidiary of Dezan Shira & Associates. We produce material for foreign investors throughout Asia, including China, India, Indonesia, Russia, the Silk Road & Vietnam. For editorial matters please contact us here and for a complimentary subscription to our products, please click here.
Dezan Shira & Associates provide business intelligence, due diligence, legal, tax and advisory services throughout the ASEAN and Asia. We maintain offices in Singapore, as well as Hanoi & Ho Chi Minh City, and maintain Alliance offices in Bangkok, Jakarta, Kuala Lumpur and Manila as well as throughout China, South-East Asia, India and Russia. For assistance with ASEAN investments into any of the featured countries, please contact us at asean@dezshira.com or visit us at www.dezshira.com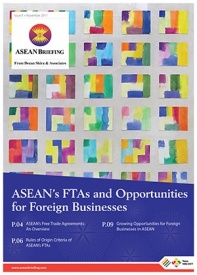 ASEAN's FTAs and Opportunities for Foreign Businesses
In this issue of ASEAN Briefing magazine, we provide an introduction to some of ASEAN's FTAs and how foreign investors and exporters can maximize opportunities in this dynamic region. We begin by discussing the salient features of each FTA and the overall benefits they offer. We then discuss the Rules of Origin crite..
---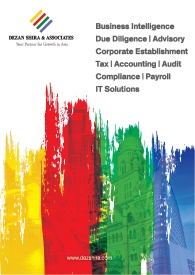 Dezan Shira & Associates' Service Brochure
Dezan Shira & Associates´ brochure offers a comprehensive overview of the services provided by the firm. With its team of lawyers, tax experts, auditors and consultants, it is Dezan Shira´s mission to guide investors through Asia´s complex regulatory environment and assist with all aspects of establishing, maintaini..
---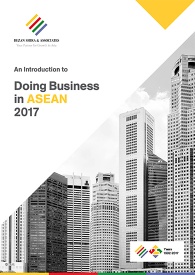 An Introduction to Doing Business in ASEAN 2017
Doing Business in ASEAN introduces the fundamentals of investing in the 10-nation ASEAN bloc, concentrating on economics, trade, corporate establishment and taxation. We also include the latest development news in our "Important Updates" section for each country, with the intent to provide an executive assessment o..
---