Last week, the Intellectual Property Office of Singapore (IPOS) launched a new financial technology (FinTech) Fast Track initiative that provides an expedited patent application-to-grant process for financial technology innovations. Under this initiative, FinTech patents will be granted to investors in as early as six months, as opposed to the minimum two years for normal applications.
The initiative aims to support the growing demand for FinTech solutions in Singapore, and help FinTech startups bring their innovations to the market more rapidly.  It aims to help Singapore's innovative enterprises to compete effectively through their intellectual property and use these intellectual assets to expand and enter the world's market. It will also allow startups to efficiently operate within the country's regulatory policies and financial infrastructure.
 RELATED: Corporate Establishment Services from Dezan Shira & Associates
According to the IPOS guidelines on FinTech inventions, all technologies that use blockchain to facilitate or improve the security and efficiency of clearing and settlement across borders for transaction and payment falls under the FinTech category. Other sectors eligible for the Fast Track Initiative include insurance technology, electronic payments, investment, security, fraud detection and authentication. Fast Track initiative is also available for an invention involving alternative due diligence, virtual exchanges, and smart contracts.
Singapore is one of the top-ranked FinTech hubs globally, with a world-class infrastructure and connectivity. Ultra-high-speed fiber infrastructure runs across the nation, while mobile subscription penetration exceeds 100 percent – factors that are all key to FinTech growth. Moreover, the country is located among the fast-growing financial markets in Southeast Asia, making it an ideal test bed for FinTech innovators looking to tap regional opportunities.
The new FinTech Fast Track Initiative coupled with these factors will complement the Monetary Authority of Singapore's S$225 million (US$1.8 million) Financial Sector Technology and Innovation funding scheme (FSTI) to boost FinTech development in Singapore.
About Us
ASEAN Briefing is published by Asia Briefing, a subsidiary of Dezan Shira & Associates. We produce material for foreign investors throughout Asia, including China, India, Indonesia, Russia, the Silk Road & Vietnam. For editorial matters please contact us here and for a complimentary subscription to our products, please click here.
Dezan Shira & Associates provide business intelligence, due diligence, legal, tax and advisory services throughout the ASEAN and Asia. We maintain offices in Singapore, as well as Hanoi & Ho Chi Minh City, and maintain Alliance offices in Bangkok, Jakarta, Kuala Lumpur and Manila as well as throughout China, South-East Asia, India and Russia. For assistance with ASEAN investments into any of the featured countries, please contact us at asean@dezshira.com or visit us at www.dezshira.com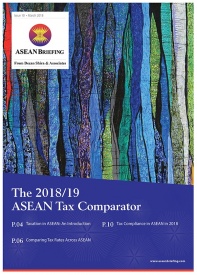 The 2018/19 ASEAN Tax Comparator
In this issue of ASEAN Briefing magazine, we discuss both the continuity and change in ASEAN's tax landscape and what it means for foreign investors. We begin by highlighting the salient features of the taxation regimes of the individual member states of ASEAN. We examine the various forms of taxation within ASEAN wh..
---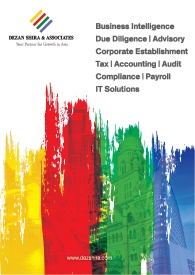 Dezan Shira & Associates' Service Brochure
Dezan Shira & Associates´ brochure offers a comprehensive overview of the services provided by the firm. With its team of lawyers, tax experts, auditors and consultants, it is Dezan Shira´s mission to guide investors through Asia´s complex regulatory environment and assist with all aspects of establishing, maintaini..
---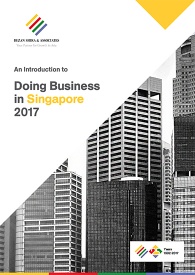 An Introduction to Doing Business in Singapore 2017
An Introduction to Doing Business in Singapore 2017 provides readers with an overview of the fundamentals of investing and conducting business in Singapore and outlines the city's role as a trading hub within ASEAN. The guide explains the basics of company establishment, annual compliance, taxation, human resources, ..
---