The latest issue of ASEAN Briefing Magazine titled, "The 2018/19 ASEAN Tax Comparator", is out now and available to subscribers as a complimentary download in the Asia Briefing Publication Store.
In this issue of ASEAN Briefing
Taxation in ASEAN: An Introduction
Comparing Tax Rates Across ASEAN
Tax Compliance in ASEAN in 2018
Despite being a close economic grouping, taxation regimes vary across the 10 member states of the Association of Southeast Asian Nations (ASEAN). While there have been moves by ASEAN members to bring their taxation regimes in line with regional integration goals, latent FDI competitiveness has led to the adoption of national strategies that are marked by adjustments in tax rates and formulation of various tax incentive schemes for foreign investors. For overseas investors looking to enter emerging markets in ASEAN, a clear understanding of the various taxes they could potentially be exposed to, remains a key element for early success in one of the world's most dynamic economic regions.
In this issue of ASEAN Briefing magazine, we discuss both the continuity and change in ASEAN's tax landscape and what it means for foreign investors. We begin by highlighting the salient features of the taxation regimes of the individual member states of ASEAN. We examine the various forms of taxation within ASEAN while highlighting their regional variations. We then provide an inter-country comparison of tax rates, including in relation to PIT, CIT, VAT and GST, which is essential for making informed FDI decisions. Finally, we analyze the ease or burden of tax compliance in ASEAN in 2018 and beyond. We discuss aspects ranging from time and documentation to the effectiveness of government policies for the benefit of would-be investors.
As ASEAN progresses towards full economic integration, a clear understanding of the intricacies of taxation in the region is key for potential overseas investors. With its proven business intelligence, tax, and market entry knowledge within ASEAN, Dezan Shira & Associates is well positioned to assist companies who are exploring their options in ASEAN, and looking to take advantage of Asia's most dynamic economic region.
About Us
ASEAN Briefing is published by Asia Briefing, a subsidiary of Dezan Shira & Associates. We produce material for foreign investors throughout Asia, including China, India, Indonesia, Russia, the Silk Road & Vietnam. For editorial matters please contact us here and for a complimentary subscription to our products, please click here.
Dezan Shira & Associates provide business intelligence, due diligence, legal, tax and advisory services throughout the ASEAN and Asia. We maintain offices in Singapore, as well as Hanoi & Ho Chi Minh City, and maintain Alliance offices in Bangkok, Jakarta, Kuala Lumpur and Manila as well as throughout China, South-East Asia, India and Russia. For assistance with ASEAN investments into any of the featured countries, please contact us at asean@dezshira.com or visit us at www.dezshira.com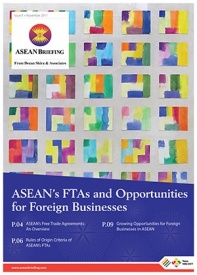 ASEAN's FTAs and Opportunities for Foreign Businesses
In this issue of ASEAN Briefing magazine, we provide an introduction to some of ASEAN's FTAs and how foreign investors and exporters can maximize opportunities in this dynamic region. We begin by discussing the salient features of each FTA and the overall benefits they offer. We then discuss the Rules of Origin crite..
---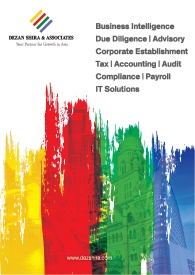 Dezan Shira & Associates' Service Brochure
Dezan Shira & Associates´ brochure offers a comprehensive overview of the services provided by the firm. With its team of lawyers, tax experts, auditors and consultants, it is Dezan Shira´s mission to guide investors through Asia´s complex regulatory environment and assist with all aspects of establishing, maintaini..
---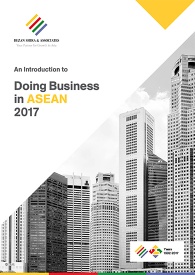 An Introduction to Doing Business in ASEAN 2017
Doing Business in ASEAN introduces the fundamentals of investing in the 10-nation ASEAN bloc, concentrating on economics, trade, corporate establishment and taxation. We also include the latest development news in our "Important Updates" section for each country, with the intent to provide an executive assessment o..
---