Indonesia is the world's largest Muslim majority country. Over 88 percent of Indonesia's population is Muslim, and the country is well positioned to be a hub for Halal products in Southeast Asia.
Supporting this projection are Indonesia's favorable demographics, rising disposable incomes, and growing consumer awareness on their religious obligations.
Indonesia is also keen to make its Halal industry attractive for investors. The government recently passed industry regulations and has earmarked new sites for the development of Halal industrial clusters. 
 RELATED: Corporate Establishment Services from Dezan Shira & Associates
What is 'Halal'?
The term 'Halal' refers to anything that is lawful or permissible under Islamic law and can refer to both goods and services acceptable to Muslims.
Thus, the Halal market and industry is absolutely wide-ranging. In the goods segment, it includes food and beverages, cosmetics, toiletries, clothes, and pharmaceuticals, among others. In the services segment, it includes tourism, banking, finance, and logistics.
Government makes Halal certification mandatory
Indonesia passed a law on Halal Product Assurance in 2014. The law specifies that all products that meet Halal requirements must be Halal certified from October 2019. Products that constitute non-Halal materials must have a label indicating their non-Halal status.
At present, obtaining Halal certification in Indonesia is based on voluntary initiatives. As a result, products from Indonesia are not officially viewed as Halal when they leave its ports. This means manufacturers miss out on a booming Halal market of an estimated 1.9 billion global Muslim consumers.
The responsibility for providing Halal certification will shift from the Indonesian Ulema Council (MUI) – the country's highest authority on Islamic Affair, to the government managed– the Halal Products Certification Agency (Badan Penyelenggara Jaminan Produk (BPJPH). Though, the MUI will continue to play a role in the certification process by providing religious decrees to determine the Halal status of a product.
In addition, the government will also launch a one-stop service portal to provide online Halal certification services to producers of food, beverage, medicinal products, and cosmetics.
Indonesia's Halal industrial clusters
Indonesia is currently building three Halal-focused industrial clusters to attract manufacturers of Halal products, Islamic banking and financial institutions, as well as Halal restaurants, hotels, malls, fashion boutiques, and entertainment centers.
One such cluster will be established at Batamindo Industrial Park on Batam Island (Riau Islands Province) and the other two clusters will be built on Indonesia's most populous island of Java.
The three industrial clusters are aimed at international Islamic investors wanting to tap into the huge market potential of Halal finance, products, and services in Indonesia.
About Us
ASEAN Briefing is published by Asia Briefing, a subsidiary of Dezan Shira & Associates. We produce material for foreign investors throughout Asia, including China, India, Indonesia, Russia, the Silk Road & Vietnam. For editorial matters please contact us here and for a complimentary subscription to our products, please click here.
Dezan Shira & Associates provide business intelligence, due diligence, legal, tax and advisory services throughout the ASEAN and Asia. We maintain offices in Singapore, as well as Hanoi & Ho Chi Minh City, and maintain Alliance offices in Bangkok, Jakarta, Kuala Lumpur and Manila as well as throughout China, South-East Asia, India and Russia. For assistance with ASEAN investments into any of the featured countries, please contact us at asean@dezshira.com or visit us at www.dezshira.com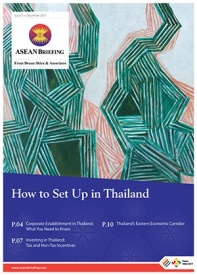 In this issue of ASEAN Briefing magazine, we analyze the various market entry options available for investors interested in expanding to Thailand. We also discuss the various tax and non-tax incentives on offer for foreign investors in the kingdom. Finally, we discuss the salient features of Thailand's EEC developmen..
---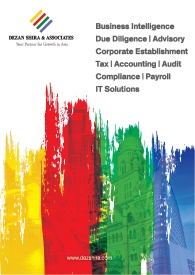 Dezan Shira & Associates' Service Brochure
Dezan Shira & Associates´ brochure offers a comprehensive overview of the services provided by the firm. With its team of lawyers, tax experts, auditors and consultants, it is Dezan Shira´s mission to guide investors through Asia´s complex regulatory environment and assist with all aspects of establishing, maintaini..
---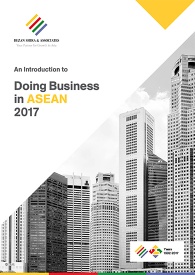 An Introduction to Doing Business in ASEAN 2017
Doing Business in ASEAN introduces the fundamentals of investing in the 10-nation ASEAN bloc, concentrating on economics, trade, corporate establishment and taxation. We also include the latest development news in our "Important Updates" section for each country, with the intent to provide an executive assessment o..
---