Op/Ed by Dr. Robin Michael Garcia & Enkhzul Orgodol
The Philippines had chaired the ASEAN four times since its inception with 2017 being its latest assumption, while Singapore had chaired three times before this year. The chairmanship of the ASEAN is based on a rotating basis with one year allocated for each chairman. With Singapore's fourth time as ASEAN chairperson this year, what is in store for a regional grouping with big accomplishments but with even bigger aspirations?
At the onset, the fundamental question that must be asked however is: what of a chairpersonship position for a regional block that makes all decisions in consultation and consensually with one another, and that values non-interference above all? Hierarchical structures and legalistic punitive mechanisms similar to the European Union (EU) barely exist at least formally. In other words, what is the role of the ASEAN Chair aside from a glorified event organizer?
The chairpersonship of the ASEAN actually comes with no small power. First, the Chair has to be spokesperson in behalf of the nine other states comprising the grouping. If we had learned anything in theory and in practice of international politics, words and ideas have enormous power in sociopolitical outcomes. Second, the chair has to put in new items in the agenda which may serve the interest of the group. Finally, it has to serve as the facilitator of consensus which usually lends the chairperson a large agenda-setting role. This latter point requires that the chairperson has to mute its own national interest and prioritize the region's. As such it has to ensure an effective response to the ASEAN's most pressing issues, and to preserve the idea of ASEAN centrality in the regional architecture. It would seem that for this year, as with many other years before, ASEAN centrality is the most pressing issue: China has undue influence over the outcome of the South China Sea debacle, particularly towards the creation of the Code of Conduct.
Under the Philippine chairpersonship, the ASEAN-led Regional Comprehensive Economic Partnership (RCEP) has not achieved substantial progress while the Trans-Transpacific Partnership (now CPTPP), has moved past the withdrawal of the United States under Trump to have the document signed next month. The Philippine chairmanship had promised the "substantial conclusion" of the RCEP in 2017 as one of its priorities. Aside from the ASEAN Economic Community (AEC), the RCEP is another trade deal but is different because it involves external partners. Because of this profile, the RCEP may thus help re-assert ASEAN Centrality despite being a vehicle for China to rival the CPTPP. While talks have begun for the long-delayed Code of Conduct in the South China Sea, the ASEAN as a collective has not moved beyond its tightlipped treatment on the disputed islands. On top of this, the issue of the persecution of the Rohingya people in Myanmar was almost ignored.
These outcomes make sense in view of Philippines under the Duterte administration. Ignoring Myanmar's Rohingya issue is consistent with its profile as a human rights pariah. The almost negligible achievements in the principled resolution of the South China Sea disputes mirrors Duterte's generally pro-China stance. More importantly, what may be described as Duterte's "non-cosmopolitan foreign economic relations" prevented it from spearheading the conclusion of the RCEP: a mega-trade deal involving several other states.
The Philippines' largely uninspiring chairmanship of the ASEAN gives plenty of room for Singapore to prove itself. Over the 50 years of ASEAN's existence, Singapore has become a regional mediator and beacon of capitalist economic development for the ASEAN and beyond. Singapore has historically been generally neutral between China-US competition in the region. While Singapore is China's largest foreign investor and China remains to be Singapore's largest trading partner, it affirmed the United States position on the South China Sea: that the disputes must be resolved in under the ambit of international legal norms.
As such, a case for an optimistic outlook for the ASEAN in 2018 is not unfounded.
Singapore has more room to maneuver towards great progress in creating a Code of Conduct in the South China Sea disputes because of two reasons: it is not a claimant state and it has stood steadfastly and consistently behind a rules-based order in the region. While Kishore Mahbubani, the diplomat-turned-public intellectual, had been under fire late last year for arguing that the country should act like a "small state" and be cautious about not irking China, the comment was not well taken by high ranking politicians and diplomats in the country. This signals that the current epistemic orientation of Singapore's foreign policy position is one which is aligned towards a legal resolution.
More importantly, the ASEAN Economic Community (AEC) is projected to increase Singapore's GDP alone by 9.5%, according to HSBC. It has thus an interest in ensuring the achievement of several short term goals on deck for the AEC. Perhaps this economic outlook may carry-over to the conclusion of the RCEP: ASEAN's ticket to get onboard one of the largest, if not the largest, and the fastest speeding commercial train in the whole world. When signed, which will most likely happen in 2018 after six years of negotiation, RCEP will represent almost one third of the world's population and almost half of the world GDP. Precisely, RCEP is a free trade agreement with all of ASEAN's ten states and its six FTA partners – China, India, Australia, New Zealand, Japan and South Korea.
If Singapore concludes the RCEP under its watch, it would compensate for its non-alignment with China in the security front. RCEP is a trade deal which would benefit China because it is not included in the rival mega-trade deal: the Comprehensive and Progressive Agreement for Trans-Pacific Partnership (CPTPP) that will be concluded next month in Chile. If this is Singapore's intention, it would have handled China-ASEAN relations astutely. Mr. Chan Chun Sing, Singapore's Minister in the Prime Minister's Office, has expressed their aspirations for setting "high standards to inspire the world's economic system to reach that level of an open trading system where everybody can benefit" by [closely] working with Beijing, along with the other ASEAN states as well as its external partners.
Prime Minister Lee's recent remarks unmistakably expresses this trade-security balance: "To keep ASEAN a central force that can deal with the challenges and opportunities, Singapore's Chairmanship focuses on the themes of 'resilience' and 'innovation'. In order to promote and uphold a rules-based regional order so that we can better deal with emerging security challenges such as cyber security, transnational crime and terrorism. With innovation we can press on with regional economic integration and enhance regional connectivity so that ASEAN can remain competitive and prosperous and we can [make] new ways to manage and harness digital technologies, and equip our citizens with skills and capabilities."
Under Singapore's chairmanship, economic and trade relations within the region, and across Asia–Pacific region is expected to be prioritized while also dealing with the security challenges. Perhaps, Singapore is what we need in ASEAN's troubled times.
Dr. Robin Michael Garcia is founder and chief executive officer of Warwick & Roger, a political risk management advisory firm with offices in Yangon, Brisbane, Ulaanbaatar and Manila. He holds a PhD in international politics at the School of International Relations and Public Affairs (SIRPA) at Fudan University in Shanghai.
Enkhzul Orgodol is founder and president of Doing Business in Asia Alliance (DBiAA), and Managing Partner of Warwick & Roger in Ulaanbaatar. She holds a Master in Public Policy at the Lee Kuan Yew School of Public Policy (LKYSPP) at the National University of Singapore.
This piece was originally published on February 11 2018 by the Doing Business in Asia Alliance. 
About Us
ASEAN Briefing is published by Asia Briefing, a subsidiary of Dezan Shira & Associates. We produce material for foreign investors throughout Asia, including China, India, Indonesia, Russia, the Silk Road & Vietnam. For editorial matters please contact us here and for a complimentary subscription to our products, please click here.
Dezan Shira & Associates provide business intelligence, due diligence, legal, tax and advisory services throughout the ASEAN and Asia. We maintain offices in Singapore, as well as Hanoi & Ho Chi Minh City, and maintain Alliance offices in Bangkok, Jakarta, Kuala Lumpur and Manila as well as throughout China, South-East Asia, India and Russia. For assistance with ASEAN investments into any of the featured countries, please contact us at asean@dezshira.com or visit us at www.dezshira.com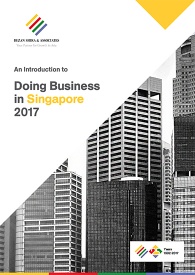 An Introduction to Doing Business in Singapore 2017
An Introduction to Doing Business in Singapore 2017 provides readers with an overview of the fundamentals of investing and conducting business in Singapore and outlines the city's role as a trading hub within ASEAN. The guide explains the basics of company establishment, annual compliance, taxation, human resources, and social insurance in the city-state. A detailed examination of the role of Singapore's many double tax treaties and its position within the ASEAN free trade area plus its relationship with China and India are also covered.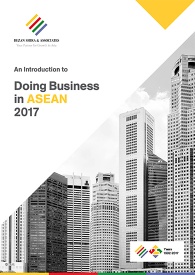 An Introduction to Doing Business in ASEAN 2017
Doing Business in ASEAN introduces the fundamentals of investing in the 10-nation ASEAN bloc, concentrating on economics, trade, corporate establishment and taxation. We also include the latest development news in our "Important Updates" section for each country, with the intent to provide an executive assessment of the varying component parts of ASEAN, assessing each member state and providing the most up-to-date economic and demographic data on each. Additional research and commentary on ASEAN's relationships with China, India and Australia is also provided.