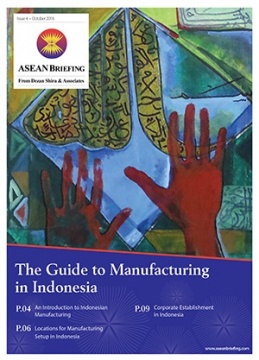 The latest issue of ASEAN Briefing Magazine, titled "The Guide to Manufacturing in Indonesia", is out now and available to subscribers as a complimentary download in the Asia Briefing Publication Store through the month of November.
In this issue of ASEAN Briefing:
An Introduction to Manufacturing in Indonesia
Locations for Manufacturing Setup in Indonesia
Corporate Establishment in Indonesia
Choosing if, where, and how to establish foreign manufacturing operations in Indonesia can be a significant challenge. The archipelago's low costs and rising stature in production and assembly make it an attractive location for investment. However, tapping into these opportunities requires a high degree of understanding regarding the nation's social and regulatory cleavages and presents numerous challenges for even the most weathered investors.
While developing an understanding of Indonesia's vast diversity may seem daunting, a number of options are available to investors which allow entry and operations to be conducted in a seamless manner. Key considerations in this regard include maintaining an up-to-date knowledge of Indonesia's corporate establishment guidelines, and a firm understanding of the special incentives and production locations that Indonesia provides to those setting up facilities within the country.