By Dezan Shira & Associates
Editor: Vasundhara Rastogi
Thailand's Board of Investment (BOI) offers a range of tax and non-tax incentives to foreign companies making investments that are deemed highly beneficial to the Thai economy.
In 2015, the BOI announced a new seven-year investment promotion strategy (2015-2021) that offers special privileges to foreign investors. Under the strategy, tax-based incentives are granted according to the group classification (A or B) for the activities and the merit of the project (if any), whereas non-tax benefits are available to all projects regardless of the type of activity or conditions.
Activity-based incentives
These business activities are classified into groups based on the level of importance. While group A activities receive tax as well as non-tax benefits, group B activities receive mainly non-tax benefits and certain import duty benefits, if applicable. Activities falling under each group classification and the incentives granted for each group are immediately below.
A1: Knowledge-based activities, focusing on R&D and design to enhance the country's competitiveness.
A2: Activities in infrastructure for the country's development, activities using advanced technology to create value-added, with none or very few existing investments in Thailand.
A3: High technology activities which are important to the country's development, with a few investments already existing in Thailand.
A4: Activities with lower technology than A1-A3 but add value to domestic resources and strengthen supply chain.
B1-B2: Supporting industries that do not use high technology but are still important to value chain.
The following tax incentives are granted for certain eligible activities under B1 or B2 category:
50 percent corporate income tax (CIT) reduction for a maximum of ten years;
Deduction from net profit for ten years of up to 70 percent of the investment amount in addition to the normal depreciation deductions.
 Additionally, tax incentives are granted to the following new categories of activities.
Merit-based incentives
These incentives are granted to encourage investment or expenditure in certain types of projects involving enhancement of competitiveness (as shown in the table below), decentralization, or industrial area development.
Merit-based incentives on decentralization
Projects located in twenty provinces having the lowest per capita income will receive:
Three additional years of CIT exemption;
An additional 50 percent reduction in CIT for five years;
Double deductions from the transportation, electricity and water supply costs for 10 years; and
Additional 25 percent reduction of the installation cost.
Merit-Based incentives on Industrial Area Development
Projects situated in the industrial estates or promoted industrial zones will get one additional year of CIT exemption. These areas include: Nakhon Phanom, Bueng Kan, Sakhon Nakhon, Phrae, Chaiyaphum, Roi Et, Kalasin, Nan, Buri Ram, Yasothon, Maha Sarakham, Ubon Ratchathani, Hong Son, Mukdahan, Mae, Nong Bua Lamphu, Si Sa Ket, Sa Kaew, Surin, Sukhothai and Amnatcharoen.
Other incentives
There are several other incentives available to businesses operating in the following regions.
Industrial estates/promoted industrial zones;
Science and technology parks;
Provinces of Southern Thailand or four districts in Songkhla;
Special Economic Zones (10 in number); or
Eastern Economic Corridor (EEC).
Apart from these, the BOI and Revenue department also offers various incentives under the International Headquarters and International Trading Center scheme. Some of the incentives offered by the BOI under the scheme include:
Permission to bring in skilled personnel and expert into Thailand to work in investment promoted activities;
Permission to own land; and
Exemption of import duty on machinery and imported raw materials.
 Additionally, there are reductions available in CIT, personal income tax, and final tax.
This article is an excerpt from the December 2017 issue of ASEAN Briefing magazine, titled "How to Set Up in Thailand" In this issue, we analyze the various market entry options available for investors interested in expanding to Thailand. We also discuss the various tax and non-tax incentives on offer for foreign investors in the kingdom. Finally, we discuss the salient features of Thailand's EEC development plan and highlight the key incentives on offer for overseas investors.

About Us
ASEAN Briefing is published by Asia Briefing, a subsidiary of Dezan Shira & Associates. We produce material for foreign investors throughout Asia, including China, India, Indonesia, Russia, the Silk Road & Vietnam. For editorial matters please contact us here and for a complimentary subscription to our products, please click here.
Dezan Shira & Associates provide business intelligence, due diligence, legal, tax and advisory services throughout the ASEAN and Asia. We maintain offices in Singapore, as well as Hanoi & Ho Chi Minh City, and maintain Alliance offices in Bangkok, Jakarta, Kuala Lumpur and Manila as well as throughout China, South-East Asia, India and Russia. For assistance with ASEAN investments into any of the featured countries, please contact us at asia@dezshira.com or visit us at www.dezshira.com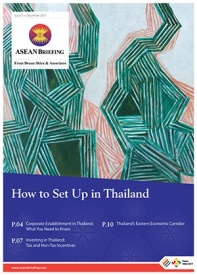 In this issue of ASEAN Briefing magazine, we analyze the various market entry options available for investors interested in expanding to Thailand. We also discuss the various tax and non-tax incentives on offer for foreign investors in the kingdom. Finally, we discuss the salient features of Thailand's EEC developmen..
---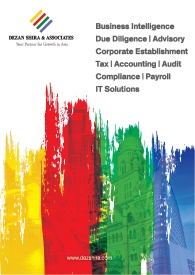 Dezan Shira & Associates' Service Brochure
Dezan Shira & Associates´ brochure offers a comprehensive overview of the services provided by the firm. With its team of lawyers, tax experts, auditors and consultants, it is Dezan Shira´s mission to guide investors through Asia´s complex regulatory environment and assist with all aspects of establishing, maintaini..
---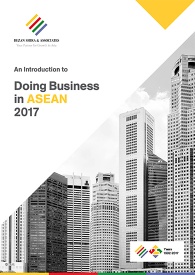 An Introduction to Doing Business in ASEAN 2017
Doing Business in ASEAN introduces the fundamentals of investing in the 10-nation ASEAN bloc, concentrating on economics, trade, corporate establishment and taxation. We also include the latest development news in our "Important Updates" section for each country, with the intent to provide an executive assessment o..
---