By Dezan Shira & Associates
Editor: Vasundhara Rastogi
There are two types of employment visas available for foreign workers planning to work and live in Indonesia: ITAS (Izin Tinggal Terbatas), a limited stay permit, issued by the Indonesian Immigration Directorate General through the local immigration office; and KITAP (Kartu Izin Tinggal Tetap), a permanent stay permit that is available for application to only those foreign workers who have held ITAS for a minimum of three consecutive years.
While ITAS is a limited stay permit, VITAS (Visa Izin Tinggal Terbatas) is the limited stay permit visa, a prerequisite to the issuance of the ITAS.
In this article, we discuss the procedures and documentation required for obtaining an ITAS.
 RELATED: Payroll and Human Resources Services from Dezan Shira & Associates
Procedure and documents required to obtain Work Visa ITAS
In Indonesia, the application for Work Visa ITAS is carried out by the employer on behalf of their foreign employee and involves the following procedures.
Step 1: Seek government approval and submit an Expatriate Placement Plan (Rencana Penempatan Tenaga Kerja Asing – RPTKA)

The company wishing to employ a foreign national must obtain a formal government approval before applying for the stay permit visa. The request is made in the form of a letter of announcement or SPT, or implementation of employment contract agreement letter from the Indonesia Investment Coordinating Board (BKPM).
In addition, the employer must also submit an Expatriate Placement Plan or RPTKA to the Ministry of Manpower, which when approved serves as the basis for the issuance of limited stay permit (ITAS) to the foreign employee.
Documents required to obtain an RPTKA
RPTKA application form;
A letter detailing the reasons for hiring a foreign national, and his/her role in the company;
A copy of the company's act;
The standard company documents; tax number (NPWP), and business license letter (SIUP);
Recommendation from another institution for certain type of company such as Oil and Gas, mining and transportation;
Copy of the Wajib Lapor – an annual report to the labor department stating the number of expats and local workers employed in the company;
Company organization structure; and
A copy of the KTP (Indonesian ID card) of an Indonesian work colleague.
As per the new Presidential Regulation enacted on March 29, 2018, companies employing foreign workers in the following positions do not need to apply for the RPTKA from June 29, 2018:
Shareholder, who is a member of the board of directors or a member of the board of commissioners of the employer;
Diplomatic and consular officers to representatives of foreign countries; and
For specific types of work required by the government.
Further, companies hiring foreign workers for urgent or emergency work may apply for the approval of RPTKA from the Minister or appointed official after the commencement of work by the foreign employee. However, it must be applied no later than two working days post the commencement of work.
Employers must note that foreign workers cannot be hired in the human resource department of any company in Indonesia and/ or in certain other jobs specified by the government.
Step 2: Report to the Ministry of Manpower and obtain IMTA

Once the RPTKA is approved, companies must submit an application for IMTA and foreign candidate's data information on aspects such as gender, nationality, place and date of birth, passport number, passport validity, position and period of work, education certificate and certification of work experience among other documents to the Ministry of Manpower. Under the new regulations, the relevant official or minister will process the foreign worker's information and approve IMTA in no longer than two working days.
The IMTA legally authorizes the company to hire a foreign worker and is issued for a maximum period of one year. It may, however, be extended in accordance with the validity period of the RPTKA, each for the period of maximum two years. 
Documents required to obtain the IMTA
The RPTKA approval;
A letter of recommendation from a technical ministry, if applicable;
A copy of the expat's passport;
Proof of an education relevant to the position the expat will hold;
A certificate of competence or work experience of at least five years in a position relevant to the position;
A statement from the expat agreeing to transfer his/her knowledge to the Indonesian counterpart;
A copy of the employment agreement of the Indonesian colleague;
An NPWP, if the expat is working longer than six months;
An insurance policy issued by an insurance company incorporated in Indonesia;
A National Social Security policy, if working in Indonesia longer than six months;
Receipt of the DKP-TKA payment (US$1,200 a year); and
Two colored photographs
Following approval from the ministry, companies must pay compensation for hiring foreign workers via banks appointed by the minister or appointed official. Government agencies, representatives of foreign countries, and international agencies are exempted from paying the compensation.
Step 3: Apply for Limited Stay Visa (VITAS or Telex visa) and Limited Stay Permit (ITAS)

After all the processes are approved, the employer must submit an application for the VITAS or Telex visa to the BKPM. Subsequently, the BKPM issues a letter of recommendation to the department of immigration – notifying the issuance of VITAS to the foreign employee.
Under the new regulations, an applicant may simultaneously apply for the ITAS through a common application for both VITAS and ITAS at an Indonesian embassy or consulate. Following that, the relevant Indonesian diplomatic mission will issue VITAS as well as an approval letter for issuance of ITAS within two working days of receipt of a completed application form. The ITAS will be issued by the immigration authorities on arrival in Indonesia on production of the ITAS approval letter. At present, the issuance of VITAS takes about three to 10 working days and the application for ITAS has to be made separately within seven days of arrival in Indonesia. Subsequent to the new regulations released on employment of foreign workers, the total time taken to process all the document will decrease significantly.
Further, foreign workers will be granted a multiple re-entry permit to Indonesia with a validity period equivalent to the ITAS. Currently, an ITAS allows only one-time entry into Indonesia.
Documents required to obtain an ITAS            
From employer
A copy of RPTKA;
A copy of the KTP of the sponsor (Domicile in Bali);
A copy of the KTP of a local employee working for the same company;
An NPWP;
SIUP (Business license);
SPPMA from BKPM;
TDP, Company's Registration Letter
Wajib Lapor;
SKTU (company's letter of domicile );
SITU & HO, letter of approval for a place of business & permits;
Legalization of deed establishment (Akta Notaris) by Department of Justice;
Blank letterhead of the company; and
Company stamp
From foreign applicants
Color copy of the passport with validity of at least 18 months;
Color copy of curriculum vitae stamped by the company and signed by the director on a stamp;
Color scan of university certificate or highest education degree in English or Bahasa Indonesia, stamped by the company and signed by the director on a stamp;
Work certificate with minimum 5 years of experience;
Health insurance; and
Colored photographs. 
An ITAS allows expatriates in Indonesia to legally obtain employment and salary; open bank account; the right to stay without regularly leaving the country; and achieve permanent residence after three years.
The overall cost to the company for obtaining an ITAS is approximately between US$1000 and US$1200.
It is important to note that under the new regulations, a foreign worker will be permitted to work for two different employers concurrently, within the same business sector and under same position. Currently, foreign applicants are not permitted to use the same ITAS to work for another company.
Step 4: Apply for a KITAS Card and Blue Foreigner's Registration Book

After ITAS is obtained, foreigners can apply for a KITAS Card and Blue Foreigners Registration Book that records the foreigner's immigration status. Both the KITAS card and Blue Foreigners Registration Book grant permit for a stay up to two years and can be extended for up to two years each time with a maximum stay of six years.
As the processes and requirements for the Indonesian work visa evolve under the new regulation, it is advisable for applicants to seek professional advice before applying for the employment permits. 
Editor's Note: The article was first published on March 15, 2018 and has been updated on April 20, 2018 as per latest developments.
About Us
ASEAN Briefing is published by Asia Briefing, a subsidiary of Dezan Shira & Associates. We produce material for foreign investors throughout Asia, including China, India, Indonesia, Russia, the Silk Road & Vietnam. For editorial matters please contact us here and for a complimentary subscription to our products, please click here.
Dezan Shira & Associates provide business intelligence, due diligence, legal, tax and advisory services throughout the ASEAN and Asia. We maintain offices in Singapore, as well as Hanoi & Ho Chi Minh City, and maintain Alliance offices in Bangkok, Jakarta, Kuala Lumpur and Manila as well as throughout China, South-East Asia, India and Russia. For assistance with ASEAN investments into any of the featured countries, please contact us at asean@dezshira.com or visit us at www.dezshira.com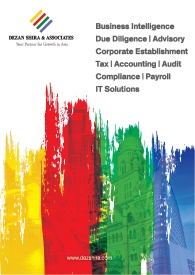 Dezan Shira & Associates' Service Brochure
Dezan Shira & Associates´ brochure offers a comprehensive overview of the services provided by the firm. With its team of lawyers, tax experts, auditors and consultants, it is Dezan Shira´s mission to guide investors through Asia´s complex regulatory environment and assist with all aspects of establishing, maintaini..
---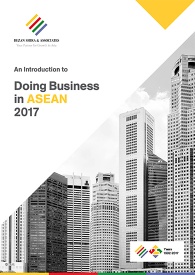 An Introduction to Doing Business in ASEAN 2017
Doing Business in ASEAN introduces the fundamentals of investing in the 10-nation ASEAN bloc, concentrating on economics, trade, corporate establishment and taxation. We also include the latest development news in our "Important Updates" section for each country, with the intent to provide an executive assessment o..
---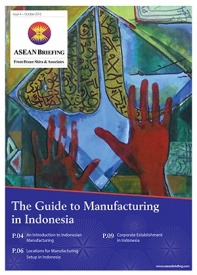 The Guide to Manufacturing in Indonesia
Choosing if, where, and how to establish foreign manufacturing operations in Indonesia can be a significant challenge. While the archipelago's vast diversity may initially seem daunting, a number of options are available which will allow entry and operations to be conducted in a seamless manner. In this issue of ASEA..
---