Philippines: Deal Approved to Increase Flights to ASEAN
President Benigno Aquino III on February 3 signed agreements allowing Philippine carriers to fly unlimited flights to ASEAN member countries. The Department of Transportation and Communications (DOTC) and Civil Aeronautics Board will help Philippine carriers in getting additional flight schedules from each of the nine other ASEAN member states – Brunei, Cambodia, Indonesia, Laos, Malaysia, Myanmar, Singapore Thailand and Vietnam. New flight schedules are expected to be operational within the next six months.
As a part of the agreement, Philippine airlines will now be allowed to fly beyond the capital cities of ASEAN member states. This is expected to boost tourism, enhance trade, and open investment opportunities for businesses looking to expand within the region. In addition, the agreement allows foreign carriers to increase flights to Manila and other cities within the Philippines. The agreement is part of the ASEAN Multilateral Agreement in Air Services (MAAS), which envisions an ASEAN Single Aviation Market allowing seamless regional connectivity.
Thailand: Stricter Punishment for Visa Overstays
The authorities, from March 20, will enforce stricter laws for foreigners overstaying on visas within the country. While relevant laws were introduced in August, 2015, authorities have stated that enforcement will be more rigorous from the aforementioned date. Details of the laws are as follows:
For foreigners that surrender to authorities:
Overstay of more than 90 days: Banned from re-entering Thailand for 1 year
Overstay of more than 1 year: Banned from re-entering Thailand for 3 years
Overstay of more than 3 years: Banned from re-entering Thailand for 5 years
Overstay of more than 5 years: Banned from re-entering Thailand for 10 years
If a foreigner is caught and arrested by the authorities:
Overstay of less than 1 year: Banned from re-entering Thailand for 5 years
Overstay of more than 1 year: Banned from re-entering Thailand for 10 years.
The banned period begins from the departure date. Previously, the fine for overstaying ranged from US $15 to US $560. The move comes as authorities say that several overstaying foreigners have been involved in crimes. Foreign travelers should familiarize themselves with the new rules to mitigate any inconvenience.
Malaysia: New Hotel Licenses Banned in Kuala Lumpur
Kuala Lumpur has imposed an indefinite ban on new hotel licenses, citing oversupply. The ruling applies to all accommodation from five-star hotels to budget establishments, but will not affect hotels that have already received permission for the construction of buildings. At present, there are around 939 hotels and more than 400 budget hotels. In the last six months, only two hotels and five budget properties were approved. Officials have stated that the existing number of hotels are sufficient to meet the demand of the 12 million international tourists expected in the city this year.
However, other groups, including budget hotel players, have opposed the idea. They have stated that with a significant increase of tourism expected by 2020, permitting in 2016 provides the necessary lead time of  three years required to build a hotel. Analysts further stated that the government should examine each project on a case-by-case basis rather than a total ban.

About Us
Asia Briefing Ltd. is a subsidiary of Dezan Shira & Associates. Dezan Shira is a specialist foreign direct investment practice, providing corporate establishment, business advisory, tax advisory and compliance, accounting, payroll, due diligence and financial review services to multinationals investing in China, Hong Kong, India, Vietnam, Singapore and the rest of ASEAN. For further information, please email vietnam@dezshira.com or visit www.dezshira.com.
Stay up to date with the latest business and investment trends in Asia by subscribing to our complimentary update service featuring news, commentary and regulatory insight.
‍
Annual Audit and Compliance in Vietnam 2016
In this issue of Vietnam Briefing, we address pressing changes to audit procedures in 2016, and provide guidance on how to ensure that compliance tasks are completed in an efficient and effective manner. We highlight the continued convergence of VAS with IFRS, discuss the emergence of e-filing, and provide step-by-step instructions on audit and compliance procedures for Foreign Owned Enterprises (FOEs) as well as Representative Offices (ROs).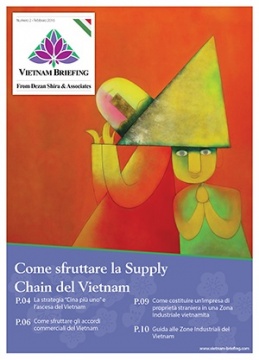 Navigating the Vietnam Supply Chain
In this edition of Vietnam Briefing, we discuss the advantages of the Vietnamese market over its regional competition and highlight where and how to implement successful investment projects. We examine tariff reduction schedules within the ACFTA and TPP, highlight considerations with regard to rules of origin, and outline the benefits of investing in Vietnam's growing economic zones. Finally, we provide expert insight into the issues surrounding the creation of 100 percent Foreign Owned Enterprise in Vietnam.
Tax, Accounting and Audit in Vietnam 2016 (2nd Edition)
This edition of Tax, Accounting, and Audit in Vietnam, updated for 2016, offers a comprehensive overview of the major taxes foreign investors are likely to encounter when establishing or operating a business in Vietnam, as well as other tax-relevant obligations. This concise, detailed, yet pragmatic guide is ideal for CFOs, compliance officers and heads of accounting who must navigate Vietnam's complex tax and accounting landscape in order to effectively manage and strategically plan their Vietnam operations.