Singapore-European Union Conclude Free Trade Agreement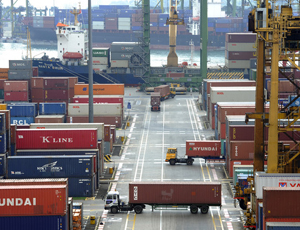 Dec. 18 – Singapore concluded an agreement with the European Union (EU) this weekend in a deal that will grant both parties improved access to each other's markets. Singapore is the first Southeast Asian nation to conclude such a deal, with the agreement seeing the EU eliminating tariffs on all imports from Singapore over a five-year period.
The FTA will remove 80 percent of all Singapore-EU tariffs, with exporters of electronics, pharmaceuticals, chemicals and processed foods benefiting the most. Government procurement will also be affected with both sides making extensive commitments that guarantee access to the other's services markets – good news also for the financial services industry.
Singapore is Southeast Asia's largest EU trade partner after Malaysia, and accounted for roughly US$106 billion worth of trade last year, which was a 7 percent growth over 2010. Analysts are already heralding the agreement as a milestone, saying that it paves the way for a region-to-region FTA between the EU and the Association of Southeast Asian Nations (ASEAN). These negotiations have been on hold since 2009 to allow both sides to further evaluate their positions.
"Singapore is a dynamic market for EU companies and is a vital hub for doing business across Southeast Asia," commented EU Trade Commissioner Karel De Gucht, who held discussions with the Singaporean Minister of Trade and Industry Lim Hng Kiang on Sunday. "This agreement is key to unlocking the gateway to the region and can be a catalyst for growth for EU exporters."
Lim responded with similar sentiments, saying that he believed this agreement would open up trade agreements with other ASEAN nations.
Lowering barriers to trade movements has been an increasing trend across Southeast Asia as countries hope to boost local economies. For example, China, Japan, and South Korea agreed to launch trade negotiations in May of this year, and South Korea and the EU entered into a free trade agreement in July of last year. The EU is currently conducting trade negotiations with Vietnam and Malaysia.
The Singapore-EU FTA is still awaiting ratification by politicians on both sides.